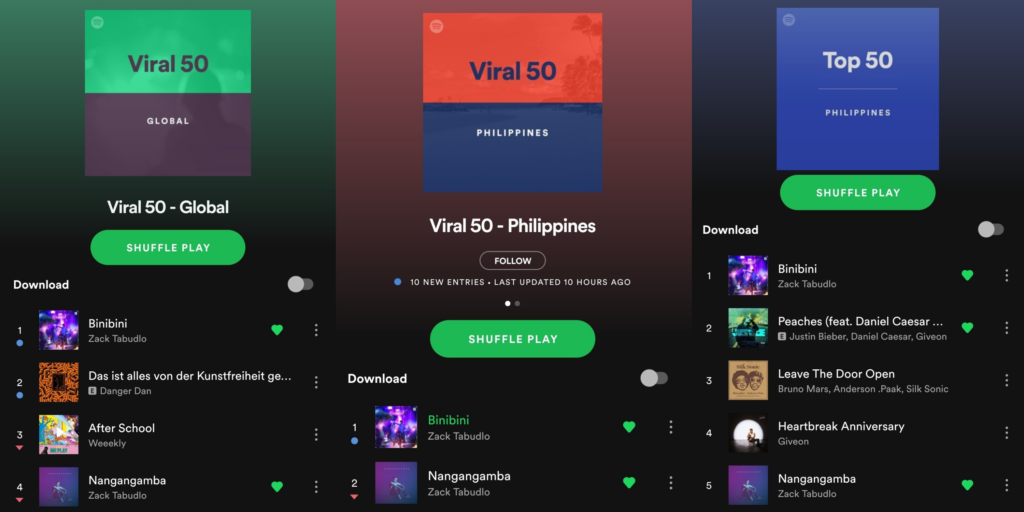 Acclaimed singer-songwriter/producer Zack Tabudlo continues to make a remarkable impact on local and international charts with the release of his blockbuster new single "Binibini" and the renewed success of "Nangangamba."
Released under Island Records Philippines and MCA Music Inc., both songs have charted on Spotify Top 50 and Viral charts encompassing six countries, including the Philippines, Canada, Singapore, Hong Kong, Saudi Arabia and UAE.
Since its debut last March 26, 2021, "Binibini" has peaked at No. 1 on Spotify Global Viral charts, Philippines Viral charts, and Philippines Top 50 charts respectively, making it one of the most-streamed releases in Asia in the first quarter of the year. The kundiman-inspired alt pop song has also dominated the charts all around the world, reaching No. 1 on Spotify Canada and Singapore Viral charts, and No. 31 on Spotify Hong Kong Viral charts.
Its music video, which was helmed by multi-awarded filmmaker Dan Villegas, has also dominated YouTube trending charts for more than a week, claiming the top position for several days since it debuted on the platform. To date, the Andrea Brillantes and Seth Fedelin-starrer has over 7 million views and continues to gain significant numbers.
Released last year, Zack Tabudlo's "Nangangamba" is making a huge comeback thanks to the boost that it's been receiving as part of the soundtrack to the upcoming sci-fi romance drama series, LOVE VS. STARS, which stars Miles Ocampo, Khalil Ramos, and Kokoy De Santos.
The catchy electro-pop tune, which is currently positioned within the top 5 of Spotify Philippines Top 50 and Philippines Viral charts, has also attained crossover success on several charts abroad, including No. 15 on Spotify Canada Viral charts, and No. 20 on Spotify Saudi Arabia Viral charts.
TikTok was also responsible for the success "Binibini" and "Nangangamba," among other factors. "Binibini," in particular, became a trend on the platform because of people showing off/dancing with their partners, and also hopeless romantics wishing for someone to dance with them in the rain. "Nangangamba," on the other hand," garnered traction because users were inspired by the song to confess to their crushes, and inspired a viral trend that allows them to give advice whether to confess their admiration or not.
Elsewhere on the Spotify Philippines Viral charts, Zack Tabudlo's two other singles "Sigurado" and "Iyong-Iyo" recently peaked at No. 7 and 8 simultaneously, pushing the hitmaker with a new record of four entries inside the top 10 of the said chart.
Zack Tabudlo songs are available on all streaming and digital platforms worldwide via Island Records Philippines and MCA Music Inc. Listen to the four tracks here:
Binibini – https://zacktabudlo.lnk.to/Nangangamba
Nangangamba – https://zacktabudlo.lnk.to/Nangangamba
Sigurado – https://zacktabudlo.lnk.to/Sigurado
Iyong Iyo – https://zacktabudlo.lnk.to/IyongIyo
About Zack Tabudlo
Zack Tabudlo is an alt-pop RnB artist from Manila, Philippines. He hit the ground running when he began his music career, becoming a finalist for reality talent show Talentadong Pinoy at the age of 10. He was a contestant for The Voice Kids season 1.
When it comes to music production, Zack has certainly earned his stripes. With the help of Jonathan Ong and Chris Anthony Vinzons of Sonic State Studio, Zack continued to hone his techniques and sensibilities, and has produced for artists such as Sharlene San Pedro and Darren Espanto. He was also mentored by Cleng Saturno, and was given tips and tricks by celebrated composer Vehnee Saturno.
Among his influences are contemporary pop chart-toppers Charlie Puth, Harry Styles, and Island Records label mateShawn Mendes. But Zack approaches the genre of pop with his own distinct approach. His artistry can be characterized as a tasteful blend of R&B, soft rock, funk and vocally driven pop.
With a slew of catchy singles under his belt, all leading up to what's looking to be a promising full-length in the future, the young musician is gaining momentum. His hustle may have been riding below the radar, but one can expect 2021 to be Zack's year. To date, Zack's latest single 'Binibini' has topped both the Spotify and YouTube trending charts for several days, making it one of the biggest songs of 2021 so far. His other track 'Nangangamba,' which was released in 2020, peaked at No.1 on both Spotify Global Viral 50 and Philippines Viral 50.
Follow Zack Tabudlo:https://zacktabudlo.lnk.to/FollowZack