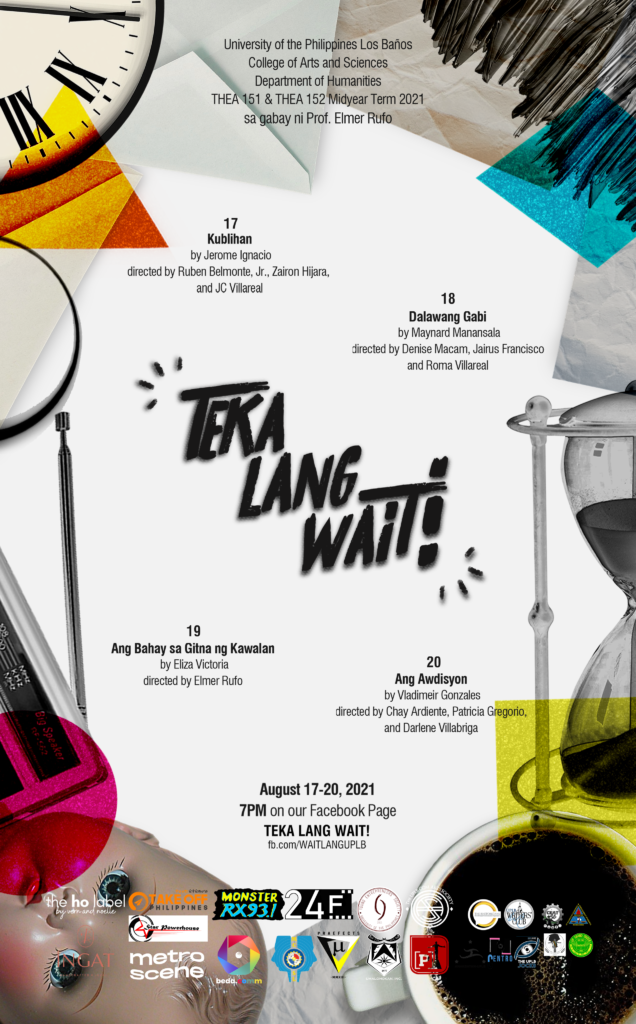 This August 17 to 20, dedicated students of UP Los Baños from the Department of Humanities – College of Arts and Sciences continue to create meaningful art in the pursuit of keeping the spirit of Theater alive by "staging" the "TEKA LANG WAIT!" Play Festival. Head-on, its captivating production name reflects its aim to be a breather amidst the fast-paced, hectic environment brought about by the ongoing pandemic. It also serves as a gentle reminder for all to hit pause and relish four carefully crafted theatrical productions that will surely make your clocks stop.
Bravely reinventing the theatrical scene with the onslaught of the COVID-19 pandemic, Theatre Majors from the UPLB Communication Arts Program proved to be innovative as they spearheaded the behind-the-scenes preparations and ran the stage itself. With the collaborative efforts of students taking Acting (THEA 151) and Directing (152) classes, together with artloving student volunteers, they plan to challenge the traditional manner of storytelling to deliver a thought-provoking theatrical experience in the virtual scene.
Featuring trailblazing takes on four works:
1. "Kublihan" by Jerome Ignacio directed by Ruben Belmonte Jr., Zairon Hijara, and JC Villareal
In a rendezvous in a overview at Marikina, Mike and Julio waits for the eclipse and watches the sunset. While sitting on a bench, they reminisce the start of their friendship and how it blossomed as the years go by. They both grapple with emotions towards their environment, themselves, and each other. When the sun rises, they accept and bravely face the challenges that the future brings.
2. "Dalawang Gabi" by Maynard Manansala directed by Denise Macam, Jairus Francisco, and Roma Villareal
In a faculty room, psychology professor, Ma'am Debbie, attempts to confess her feelings to her on of her students, Lester. Lester is a 20 year old nursing students who often visits her to help with checking test papers. Ma'am Debbie faces rejection as Lester talks about his relationship with Trisha. However, things change when after two years, Lester realizes that he missed outhis chance on true love due to his decision in the past.
3. "Ang Bahay sa Gitna ng Kawalan" by Eliza Victoria directed by Elmer Rufo
"Ang Bahay sa Gitna ng Kawalan" by Eliza Victoria is a play set during the 90's, in a rural area forgotten by time. Isabel, along with her friends, Kat and Miguel, went to the said rural area bringing their wishes to a witch which is said to be living there. Their meeting became a confrontation of the scars of the past and secrets of the present.
4. "Ang Awdisyon" by Vladimier Gonzales directed by Chay Ardiente, Patricia Gregorio, and Darlene Villabriga
"Ang Awdisyon" by Vladimier Gonzales is about Emilio, an actor-politicial, who was invited by Inang, a well-known producer, to her production office. Emilio shows his dismay on Inang's tardiness to Inang's personal assistant. During their talk, the PA's true identity is revealed and Emilio is forced to face his hidden past.
"TEKA LANG WAIT!" Play Festival hopes to provide you with original entertainment like no other at the comfort of your home and at the pace you can enjoy.
Catch the premiere of these plays every 7 PM from August 17 to 21 on their official Facebook page: facebook.com/WAITLANGUPLB (@WAITLANGUPLB) for free. Don't forget to like and follow their social media account to know more about what "TEKA LANG WAIT!" Play Festival got in store for you.