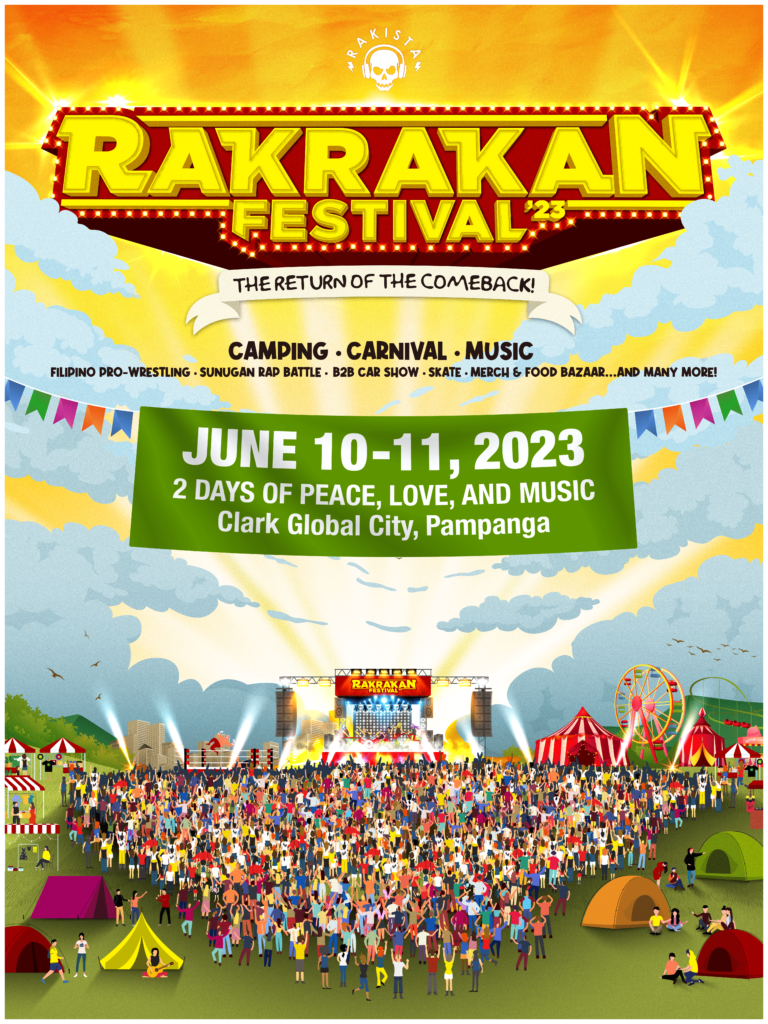 After months and weeks of teasers and suggestions about what may happen at this year's RAKRAKAN, it has been confirmed that the event will be taking over CLARK GLOBAL CITY on June 10-11, 2023. This is to assure you that this year's event will be more enjoyable and thrilling as we welcome everyone to our new festival location in Pampanga. Everyone is welcome to have another one-of-a-kind FUN EXPERIENCE at this year's event, regardless of where they are coming from.
RAKRAKAN Festival is an annual music festival in the Philippines that covers a diverse variety of music genres such as rock, metal, hip-hop, OPM, pop, and so on. The festival originally took place in 2013, and it has since evolved to become one of the country's largest music events. However, because to the pandemic, it was postponed until 2020 to safeguard the safety and well-being of our audience. But now there's no stopping by because #TheReturnOfTheComback fever has set in!
This year's festival is actually inspired by COACHELLA which is well-known in the big international scene and is loved by the crowd because of its awesome presentation of activities and spectacular tricks. So, why not adapt its fever to RAKRAKAN Festival? This became the foundation of the event into molding the idea of creating a lot more activities for people to make the most out of it with fulfillment. In addition to a range of other attractions like skateboarding events, graffiti contests, food and merchandise bazaars, RAKRAKAN has developed a reputation for having a thriving and diverse music scene as well as for having enthusiastic and devoted fans.
How about you tell us your favorite bands you wish to perform at the festival? Don't be shy, and write as many as you can because like the usual, RAKRAKAN festival is built with MULTI-STAGES to cater over hundreds of artists that will surely rock fire to the stage.
This year's RAKRAKAN festival is pleased to add up interesting, fun, and wild flavors to the event for people to EXPERIENCE the best 2-day music fest of their life; making it sure that no dull moments will be captured.
Are you also into Car shows? RAKRAKAN Festival lets you enjoy it together with one of the biggest, the nation widest, and the longest running outdoor car show and lifestyle event in ASIA, BUMPER TO BUMPER CAR SHOW!
How about seeing artists participating in our FIL Pro Wrestling while mouthing wild wordplays in our Sunugan Rap Battle? We got it all for you!
But how are you not gonna miss everything in the festival? You should go CAMPING with us in order to catch up on all the best EXPERIENCE!
There are so many activities, truly a festive event, as we keep on bombing you with new and great interests. There's more to expect. E-Sports and many more? Let's just wait for more surprises!
For updates and ticket selling please visit rakrakanfestival Facebook, Instagram, and official website rakrakanfestival.com