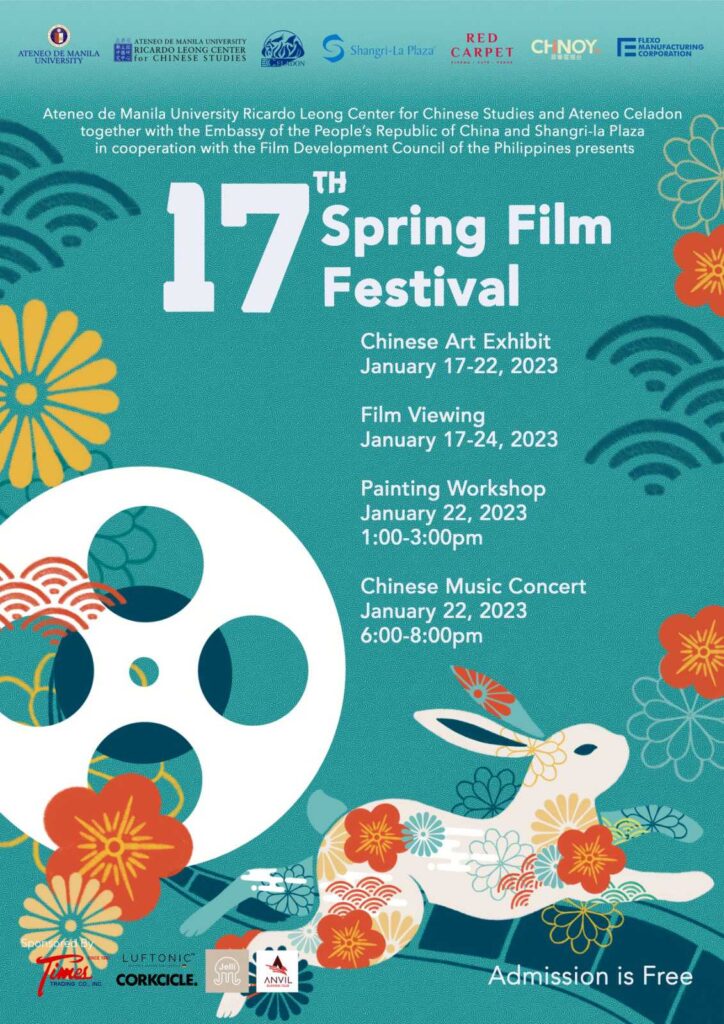 The Spring Film Festival, which has brought countless colorful tales from China, is back at Shangri-La Plaza for its 17th year. Running amid the biggest festival in the Chinese calendar, this exciting film event in the metro offers cinephiles a deeper understanding of Chinese culture, which has been long infused in many Filipinos' way of life.
The 17th Spring Film Festival has lined up nine Chinese classic and modern moving pictures to be screened at the Red Carpet at the Shang until January 24. Organized in partnership with the Ateneo de Manila University Ricardo Leong Center for Chinese Studies, the Ateneo Celadon, the Embassy of the Republic of China, and the Film Development Council of the Philippines, the festival showcases tales that explore themes like self-discovery, transcendental love, loss and longing—all amid the backdrop of ancient and contemporary China.
The festival is bringing in the world's highest grossing film by a solo female director of all time with US$848 million at the box office, Hi, Mom. It's directed and co-written by comedian Jia Ling, who also stars in the film. A tribute to Ling's late mother, the movie is a touching story about a daughter who just lost her mother and finds herself traveling back in time. She then meets the younger version of her mom who soon becomes her close friend. Determined to improve her mother's future, she tries to take her fate in her own hands—like setting her up with a better husband.
B for Busy is a 2021 romcom set in Shanghai's former French Concession. It stars Xu Cheng, one of China's most popular and influential entertainers, who portrays the role of a divorced 50-year-old man who teaches people to paint for a living. The debut piece of young female filmmaker Shao Yihui, B for Busy is highly acclaimed for its honest depiction of middle-aged romance and for its well-developed female characters. A few days after its release, it became the highest rated Chinese movie in 2021 on popular social media platform, Douban.
Another romcom in this year's Spring Film Festival is the 2017 release Love Education. It's directed and co-written by celebrated actor Sylvia Chang, who also takes the lead role in the film. It follows the three generations of women who have different views on life and love, but ultimately find a way to connect and bond.
Catch an inspiring story with the 2020 biopic Huang Wenxiu. Directed by Miao Yue, the film centers around the life of the sunny and beautiful Huang Wenxiu who devoted herself to helping her poverty-stricken village. But her mission was cut short when she died at only 29 during a flash flood while conducting a disaster relief operation.
For fans of historical tales, make sure to watch the 2016 Chinese-Indian movie Da Tang Xuan Zang. Directed by Huo Jianqi and produced by Wong Kar-wai, the historical adventure film is based on Xuan Jang's 17-year overland journey to India during the Tang dynasty in the seventh century. Xuan Zang was a Chinese Buddhist monk, scholar, traveler, and translator who was known for his travelogue of his journey to India.
Another must-see is the 2013 Chinese art house drama film Song of the Phoenix, directed by Wu Tianming. It's about a man who dreams of forming his own suona (a traditional Chinese instrument) troupe and faces the painful reality of living in a modern, urbanized China, which no longer values traditional music.
The 17th Spring Film Festival also features classic Chinese animation, also known as donghua, with the 1961 masterpiece Uproar in Heaven. Directed by one of the pioneers of donghua Wan Laiming, it's an adaptation of the earlier chapters of the 16th century Chinese novel, Journey to the West. The main character is Sun Wukong, aka the Monkey King, who rebels against the Jade Emperor of heaven.
The festival is also showing another classic donghua, the 1958 short donghua Pigsy Eats Watermelon, produced at the Shanghai Animation Film Studio by Wan Laiming and Wan Guchan. It's known as the first film to use Wan Guchan's innovative paper-cut technique. It's based on a Chinese folklore about Zhu Bajie or the Monk Pig, who is known for his laziness and gluttony.
The short donghua is going to play at the Red Carpet alongside the 1922 silent comedy Laborer's Love, which is considered the only surviving complete film from China's early cinematic history. It's directed by Zhang Shichuan, who is known as a founding father of Chinese cinema. It revolves around a carpenter-turned-fruit seller who falls in love with a doctor's daughter. But the doctor says he'll only allow his daughter to be married to the man who can bring him more patients.
To further celebrate the Year of the Water Rabbit, those who will catch the 17th Spring Film Festival can also check other Lunar New Year festivities at the Shang. Marvel at unique Chinese art at the Grand Atrium until the Lunar New Year on January 22. On the same day, join an art workshop at the Grand Atrium at 1PM. Then, get into a festive mood with classical Chinese music performances at the same venue at 4:30PM. To welcome prosperous times, expect to see dragon and lion dances at the mall too during the Lunar New Year.
Have a joyous Spring Festival and welcome the new year with new experiences and greater appreciation for Asian cultures by embarking on a journey to Chinese cinema and exploring Chinese culture at Shangri-La Plaza.
For updates and inquiries, follow Shangri-La Plaza on Facebook at www.facebook.com/shangrilaplazaofficial and on Instagram @shangrilaplazaofficial.