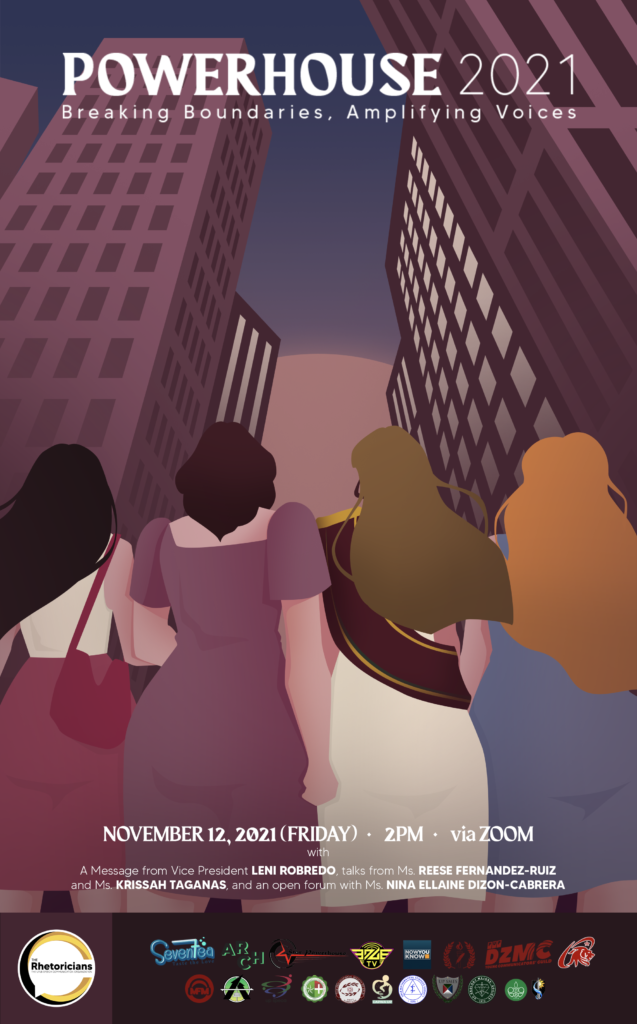 At present, women excel in different fields and their recognition gives a hopeful future where all forms of inequality are nonexistent—a future that is female. With this, The Rhetoricians: The UPLB Speech Communication Organization brings you Powerhouse 2021 with the theme Women Empowerment: Breaking Boundaries, Amplifying Voices.
Powerhouse is an annual public forum led by experts in communication and other related fields where they share their knowledge and expertise. For the first time ever, Powerhouse will feature women speakers to talk about what it means to be an empowered woman in today's society. Vice President Leni Robredo will give a  pre-recorded opening remarks, followed by inspirational talks from Ms. Reese Fernandez Ruiz, co-founder of Internationality Inc., and UPLB Prof. Krissah Taganas who specializes in Women Philosophy, and lastly, a panel discussion with Ms. Nina Ellaine Dizon-Cabrera, the CEO of Colourette Cosmetics
Powerhouse 2021 is not something that you should miss out on. Listen to diverse perspectives, break away from boundaries, and raise your voice for a world where women's contributions are honored and recognized, this November 12, 2021, Friday, 2:00 PM via Zoom. 
Invite your friends as this event is open to everyone of all genders, free of charge. To register, fill out this link and head to The Rhetoricians' Facebook, Twitter, or Instagram pages for more information.
Listen, recognize, and speak up.
See you at Powerhouse 2021!