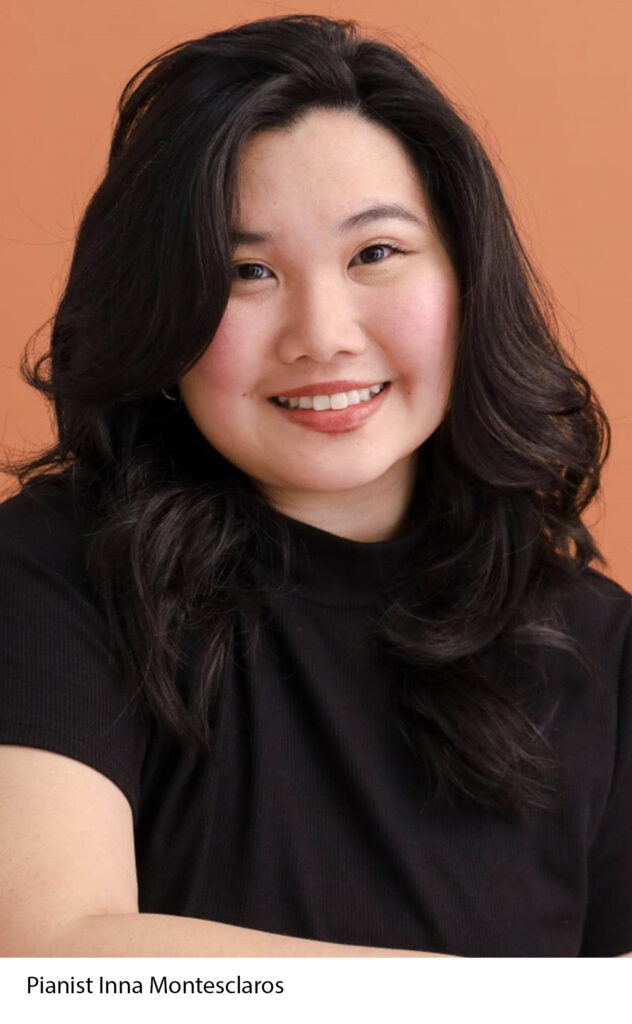 In collaboration with the Insular Life (In Life), the LAMDAG Foundation for Women Projects presents pianist Inna Montesclaros in a solo piano performance on May 21, 2023 at 4pm at the Insular Life Auditorium in Filinvest Corporate City in Alabang.
The proceeds from the event will go toward the construction of the Dayao Center in Davao City, which will house the foundation. It is committed to the overall development of young professionals, female students, and lady assistants in Davao and the surrounding regions. The Foundation first featured pianist Montesclaros in a similar initiative hosted at the Francisco Santiago Hall at the BDO Head Office in Makati City in 2019, with great success, and aims to repeat the feat.
Pianist Montesclaros will play an all Chopin pieces in the first part of the program. These are: Andante spianato et grande polonaise brillante Op. 22; Etude in E major, Op.10 no.3; Etude in C minor, Op 10 no. 12, and Ballade no. 1 in G minor, Op.23. The second part will feature Beethoven's Piano Sonata No. 21 in C Major Op. 53; F. Buencamino's Mayon Fantasia de Concierto and Liszt's Hungarian Rhapsody No. 10 in E major.
Noted for her "warm tones and sincere musicality," pianist Montesclaros finished her bachelor's degree in piano performance at the Royal College of Music with Ian Jones as her mentor.  She obtained her master's degree in piano performance at and Advanced Diploma at the Royal Academy of Music under the tutelage of Ian Fountain.  She earned all degrees with First Class marks and Distinction. In the Philippines, her mentors are Prod Cecile Roxas and Dr. Raul Sunico.
She has attended masterclasses given by Richard Goode, Imogen Cooper, Tatiana Sarkissova and Dorian Leljak, among others.
She had garnered top prizes in several piano competitions in Manila, notably the NAMCYA, Rosario Picazo Piano Competition and the Piano Teacher's Guild competition, as well as in international competitions held in South Korea, Malaysia, Vietnam, Germany, Hungary and the United Kingdom.
She had given concerts in the USA; the UK, South America and Asia. In Manila she played with the country's leading orchestras, such as the Manila Symphony Orchestra; the Philippine Philharmonic orchestra, and the Metro Manila community orchestra.
She has given masterclasses in Chile, Hungary and Manila, and has served as jury in piano competitions such as the Piano Competition for Young Artists sponsored by Lyric Piano and Organ Corporation; the Piano Teachers Guild of the Philippines, and the 6th Steinway Youth competition in the Philippines.
As a budding painter, she has collaborated with artists in mounting cross-arts performances, and has been featured at the Royal Academy of Music Piano Festival; the Royal Academy of Art Oceania Exhibit, held at St. Cecilia Hall of St. Scholastica's College.
For tickets, please inquire at mobile phones, 0917-8627100 and 0917-5236646.