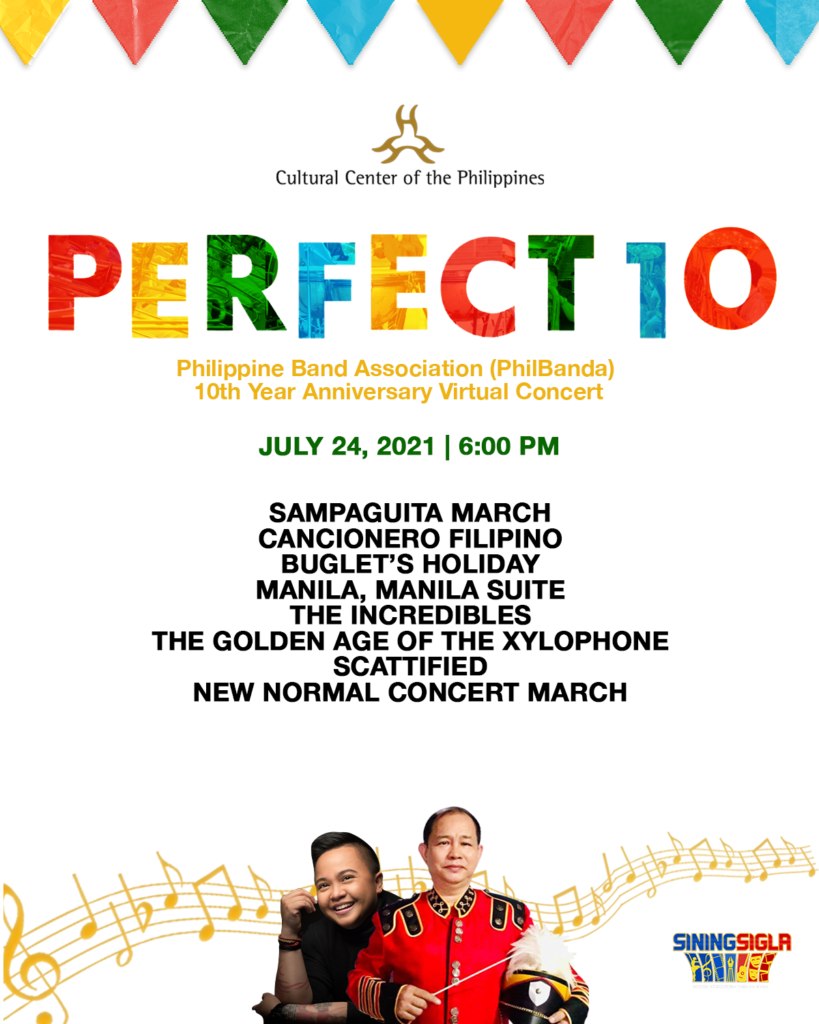 The Cultural Center of the Philippines – Office of the President, through its "SINING SIGLA" outreach program, teams up with the Philippine Band Association (Philbanda) in bringing the latter's decade-long celebration to the virtual screen. PERFECT 10, a virtual concert featuring the 60- piece Philbanda Wind Orchestra, proudly highlights a decade of symphonic performances from the country's sole professional wind orchestra. This special virtual concert will also be graced by the Philippine Baton Twirling Association, and will be hosted by one of the country's top OPM artists, Ice Seguerra. Maestro Herminigildo Ranera of the UST Conservatory of Music is the current conductor of the Philbanda Wind Orchestra, under the direction of Dennis Marasigan.
Apart from the impressive performances from the Philbanda Wind Orchestra, young talents from Metro Manila and local participants from different regions will also showcase their talents in the premiere performance of Maestro Ranera's New Normal Concert March, a rare opportunity for local musicians to perform alongside professional groups via virtual platforms.
The virtual concert also features the Philippine Baton Twirling Association (PBTA), an organization dedicated to training and developing young baton twirlers for years. This participation will not only showcase their talent in baton twirling but will inspire local majorettes to improve their skills as well.
PERFECT 10, The Philbanda 10th Anniversary Virtual Concert, is a project of the CCP Office of the President's SINING SIGLA Program. Under the leadership of CCP President Arsenio "Nick" LIzaso, this program aims to continuously reach out to the public, even in the midst of the pandemic, by providing artistic and culturally-relevant content online. Past programs include 'Jazz Stay At Home' (Jazz Festival), 'MALA' (Movies Adapted from Literary Arts), 'Sigla ng Pasko,' 'Awit at Dula: Pagbabalik-tanaw sa Unang Hari ng Balagtasan,' and PINTIG – A Percussion Festival.' The program will be streamed via the CCP Office of the President official Facebook page on the 24th of July at 6:00PM. You may opt to follow the page for updates and more information.