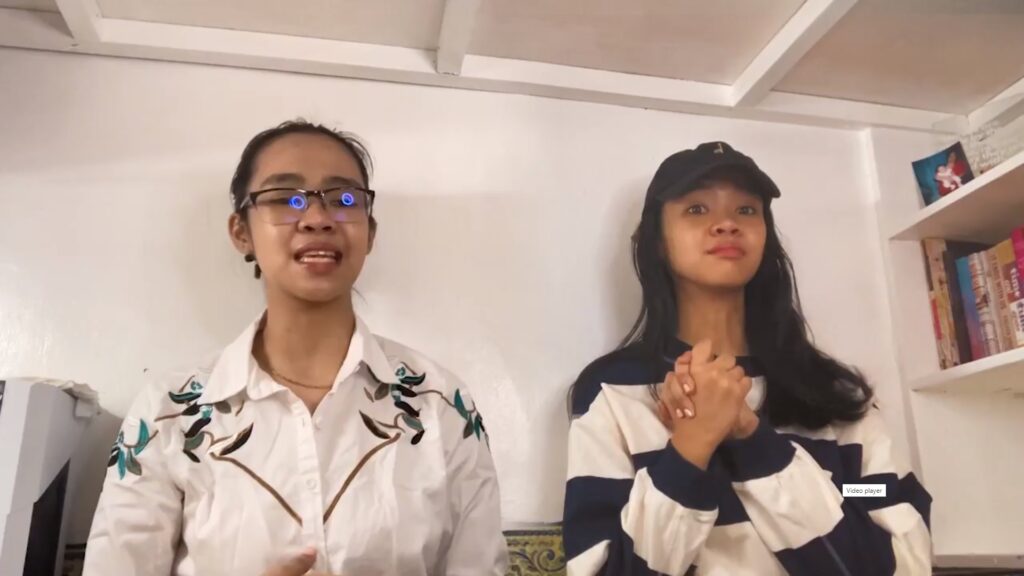 A science high school graduate warns of a "double pandemic" in a short infotainment video from a new digital art exhibition of the De La Salle-College of Saint Benilde (DLS-CSB) Center for Campus Art (CCA).
"To Differ, Digitally 2: Love and Dissent in the Time of Pandemic" explores the digital landscape as a platform to communicate constructive protest based on love and empathy. The show spotlights photographs, graphic design, and illustrations, 2D and 3D models and rigs, animation and live action films, texts, audio, applications, and software. This is the second time CCA, under Architect Gerry Torres, collaborated with the New Media Cluster faculty headed by Associate Dean Maria Sharon Mapa Arriola.
Among the TDD2 projects is "Double Pandemic, Deadly Combination," where a teenager (Elizah Bacani) talks about the danger of trans fatty acids or trans fats, especially in the time of the COVID-19 pandemic.
The project, which attempts to describe trans fats in simple terms through the visual medium, was originally written by filmmaker and content producer Seymour Sanchez under the "(Un)Covering Trans Fats Media Training and Fellowship Program Cycle 3" by Probe Media Foundation, Inc. and ImagineLaw.
Sanchez's personal experience, along with his knowledge of the connection between trans fats and cardiovascular disease, inspired the idea. "My father-in-law died last May due to sepsis after getting the virus. He also had heart problems, which forms a deadly combination with COVID-19. I got a severe case of COVID last August and fortunately survived the ordeal despite my comorbidities," he revealed.
"As a kidney transplant recipient, I am immunocompromised. My condition is a known comorbidity of COVID, which makes me more susceptible to severe symptoms of the disease," Sanchez explained.
Aside from persons with weakened immune systems, older people and those with underlying medical conditions such as heart disease, high blood pressure and diabetes are also more likely to develop critical COVID.
"We can actually avoid the presence of trans fats in our country. Although greatly reduced, they have yet to be eliminated completely in our food supply. Laws should be enacted to declare that these fats are no longer generally recognized as safe. A deadline must be set for them to be banned," he added.
Curator Karen Ocampo-Flores explained that TDD2 is "not only a fresh opportunity to deliver messages of social commentary through the digital medium; it is also a timely response to conditions wrought by the present scourge of the COVID-19 virus."
Apart from "Double Pandemic, Deadly Combination," Sanchez also wrote and directed "Maria Leonor," an open letter to Vice President Leni Gerona Robredo – one of the most, if not the most, trolled public officials in the country – after she announced that she is running for president in the coming election.
"Seymour Sanchez presents through the language of documentary video, his own arguments and inquiry into politics and public health," Flores described the works in the art exhibit found at CCA's new website (www.benildecampusart.com).
Joining Sanchez at TDD2 is his fellow film educator and writer Jag Garcia ("I, Labyrinth"), animator Benjie Marasigan ("Hall of Heroes"), photographer Jay Javier ("Red Tagged!"), motion graphics artist and designer Yolec Homecillo ("Mga 'Di Nakikita ng Mata"), multimedia designer Hannah Sison ("Portal"), 3D artist Volty Garcia (working with Sison in "Voltanna"), graphic designers Dino Brucelas ("Ang Bangkay na Marikit sa Panahon ng Pandemic") and Rafael Liao ("Just Snap!"), visual communicator Vanessa Puente, graphic designer and writer Katrina Juane, visual artist Emily Mones, and writer-designers Ericka Garalde and Brian Bringas (working together with Brucelas in "Sino Ba Kausap Mo?"), event consultant Mito Tubilleja ("Mary and the Machine"), writer and content developer Penny Angeles-Tan ("Lynyrd Paras"), and multidisciplinary artist Teta Tulay ("Veerus").
For more information about the exhibit and other projects, visit CCA's social media pages on Facebook (https://www.facebook.com/BenildeCampusArt), Twitter (https://twitter.com/csbcampusart), Instagram (https://www.instagram.com/benilde.campusart/) and its YouTube channel (https://www.youtube.com/c/BenildeCampusArt).