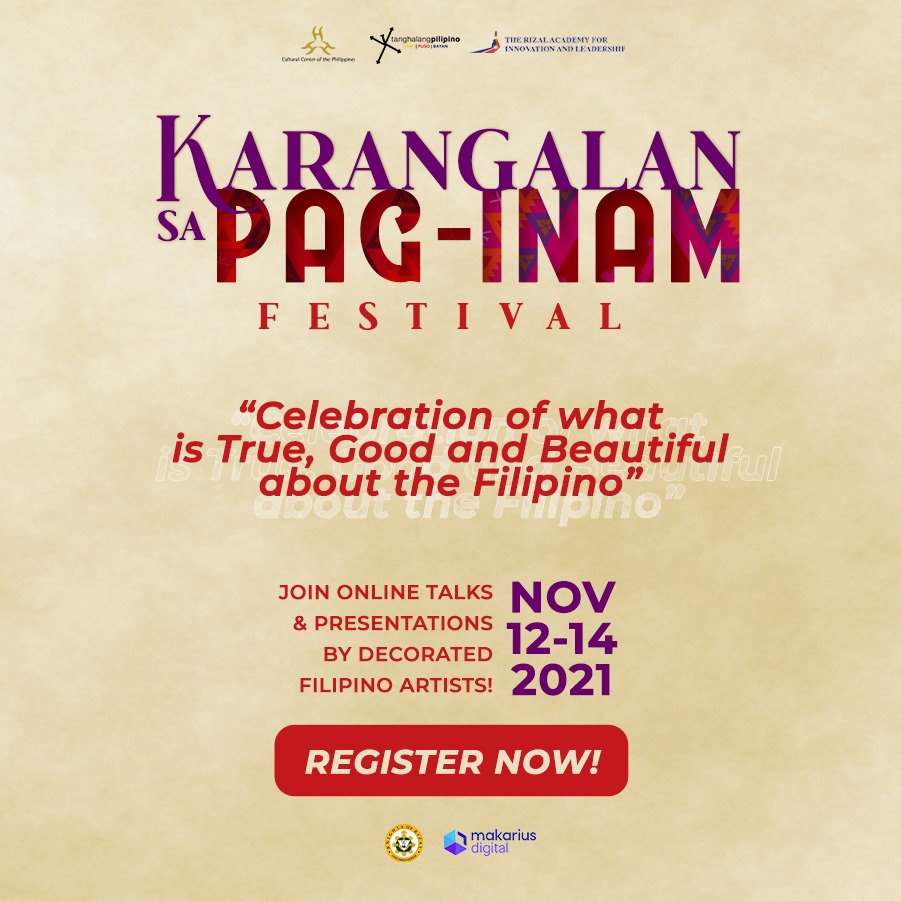 Apart from producing thought-provoking plays that highlight the socio-political realities of the country, as well as promote the artistry of Filipino artists, Tanghalang Pilipino (TP), the
resident theatre company of the Cultural Center of the Philippines (CCP), also takes pride in conducting various workshops across the country. Using the "Kamalayang Pilipino" (KAPWA) approach as its main pedagogy, the workshops offered by TP offer a unique learning experience where the development of an artist is infused with the core Filipino values.
Last May 2021, we successfully launched the first PAG-INAM, a three (3)-day festival that aimed to celebrate the linkages forged by TP, through various talks, workshops, and
performances, all in the spirit of collaboration. The goal of the festival was to create a mixing pot of knowledge among the regional groups, by means of sharing their own regional identities through various activities.
Coming off the heels of PAG-INAM, and with the goal of bringing this kind of event to a greater number of audiences, we have decided to launch KARANGALAN SA PAG-INAM.
With the theme, Tanghalang Pilipino @35: A celebration of what is True, Good, and Beautiful about the Filipino. This online festival aims to gather cultural groups, students and teachers, and cultural and social activists from various provinces in the country to participate in a major cultural-sharing, through various workshops, performances, and fora.
Apart from highly respected artists who will present various topics on Philippine arts and culture, we have also invited resource speakers who will share with us essential issues about entrepreneurship, health, and the environment. KARANGALAN SA PAG-INAM will run from November 12 – 14, 2021, Friday to Sunday. The festival website is up, though undergoing updates, please visit KarangalanSaPagInam.com to know more. Details and program is also attached herewith for your reference.
With this, we are inviting you as a media partner of Tanghalang Pilipino as we continue to preserve Filipino values in the age of disruption, rapid change, and digitalization. Attached
is an overview of the festival for your reference or you may visit the webpage at KarangalanSaPagInam.com.