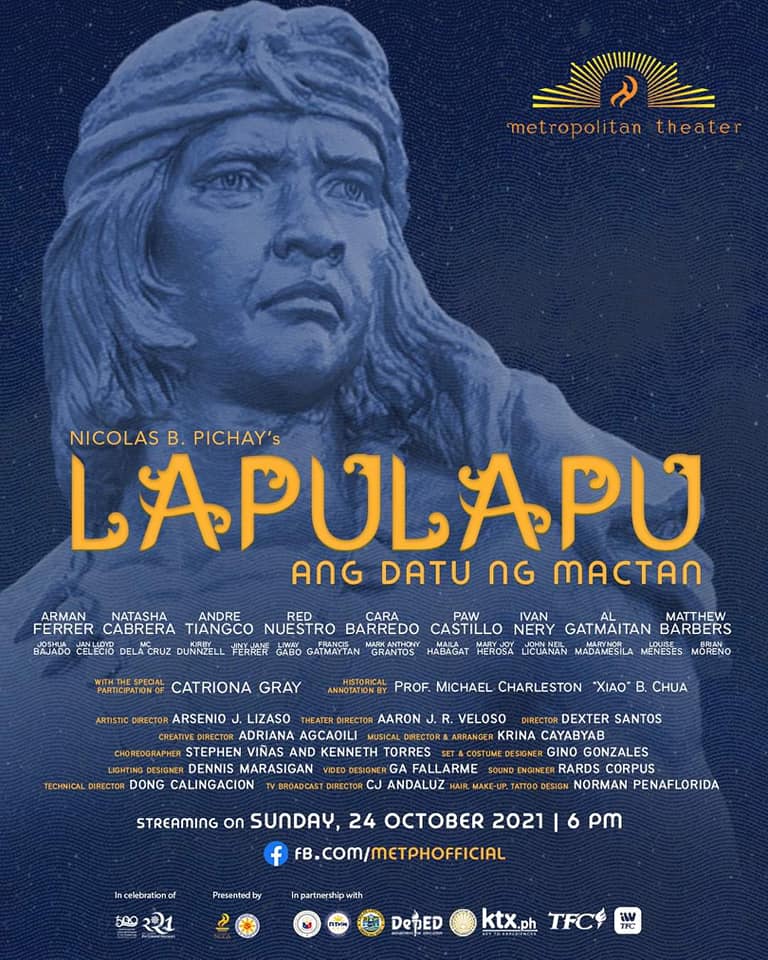 The Metropolitan Theater's maiden production, the musical "Lapulapu, ang Datu ng Mactan" is already grand with its scope and what it stands for, including the re-inauguration of the MET. The said production also boasts of the most exciting stage performers in the country, headed by foremost tenor and musical theater lead, Arman Ferrer, in the title role.
However, if there is one thing that will make "Lapulapu, ang Datu ng Mactan" worthy of being the maiden production of the revered Metropolitan Theater, it will be the collaboration among the members of the production and creative team, led by director Dexter Santos, who helmed the theater blockbusters "Ang Huling El Bimbo" and various Dulaang UP productions, with Nicolas Pichay as "Lapulapu" Librettist.
"I am glad to be asked to direct the production that will open the new chapter of MET," says Dexter. "The task is more meaningful since this means the chance to collaborate with hardworking and passionate artists during the pandemic."
"Lapulapu, ang Datu ng Mactan" also features the remarkable work of musical director Krina Cayabyab.
Aside from original songs written by Nicolas Pichay and composed by Krina Cayabyab, "Lapulapu, Ang Datu ng Mactan" will also feature products of PhilPop Bootcamp 2019, in partnership with the National Quincentennial Committee, the National Historical Commission of the Philippines, and the National Commission for Culture and the Arts.
These songs include "Kahayag" (Music and Lyrics by CJ Kaamiño); "Mactan" (Music and Lyrics by Kian Dionisio); "Baka Bukas" (Music and Lyrics by Thyro Alfaro, Yumi Lacsamana, Lara Maigue, Davey Langit, Marlon Barnuevo); and "Bagani " (Music and Lyrics by Roel Rostata).
The production will also be a feast for the senses as it features the works of the industry's best – Set and Costume Supplier Gino Gonzales, Lighting Director Dennis Marasigan, Sound Engineer Rards Corpus, Video Designer GA Fallarme and Choreographers Stephen Viñas and Kenneth Torres. Stage management is by Ed Murillo.
You can watch this spectacle of a production this October 24 at the official Facebook page of the Metropolitan Theater (http://facebook.com/metphofficial).