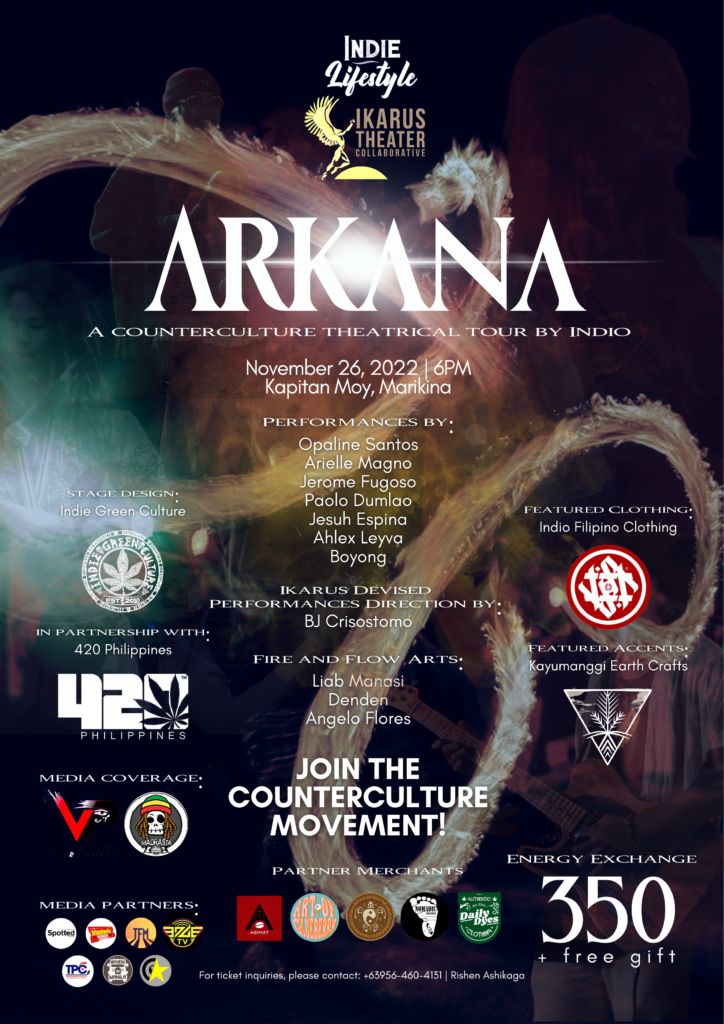 Contrary to typical band performers, Ind!o, a countercultural theatrical band is breaking the cultural norm through a theatrical tour of mystic and indie tribal performance.
While Ind!o band is known for their acts which feature spectacle, modern-ethnic fashion, and Bohemian principles, they are also recognized for their style of showcasing a performance with narrative lyrics and alluring instrumentals and accompaniments.
Today, Ind!o represents both the community of Hippies and Filipino healing artists in the local indie music scene. Members are Marlon Trinidad, Marion Madriaga Gonzales, Darrel Quintana, Darrel Daguinotan, Marico Lemlem Parma, Norben Angeles, Christian Intan Mark, and lead singer-songwriter Rishen "Jen" Ashikaga. The tour features some of their original song compositions including "Warlock", "I Have a Confession", "Arkana", "Paru-paro", "Earthlings", "Tahan Na", and "Anhedonia".
This November 26, 2022, Ind!o will live out this vibe as they will be performing with various theater actors such as Opaline Santos, Jerome Ferguson, flow artists Angelo Flores, Liab Manasi and Denden. Ikarus Theater Collaborative also joins the force featuring thespians Arielle Magno, Paolo Dumlao, Jesih Espina, Ahlex Leyva. BJ Crisostomo will lead the devised performances.

Arkana is also in a relevant partnership with Indio Filipino Clothing, 420 Philippines, and Indie Green Culture, who lead the local movements of counterculture and Filipino pagan culture. This is just the beginning of one of the many shows of Arkana, as it will be touring elsewhere in the following dates to be announced. Tickets are priced at Php350 (with gift inclusion).
For tickets and inquiries, please contact (Marco Julio Magpantay – 09564604131) or follow Ind!o's Facebook page (facebook.com/indiomusic ph) to stay updated.