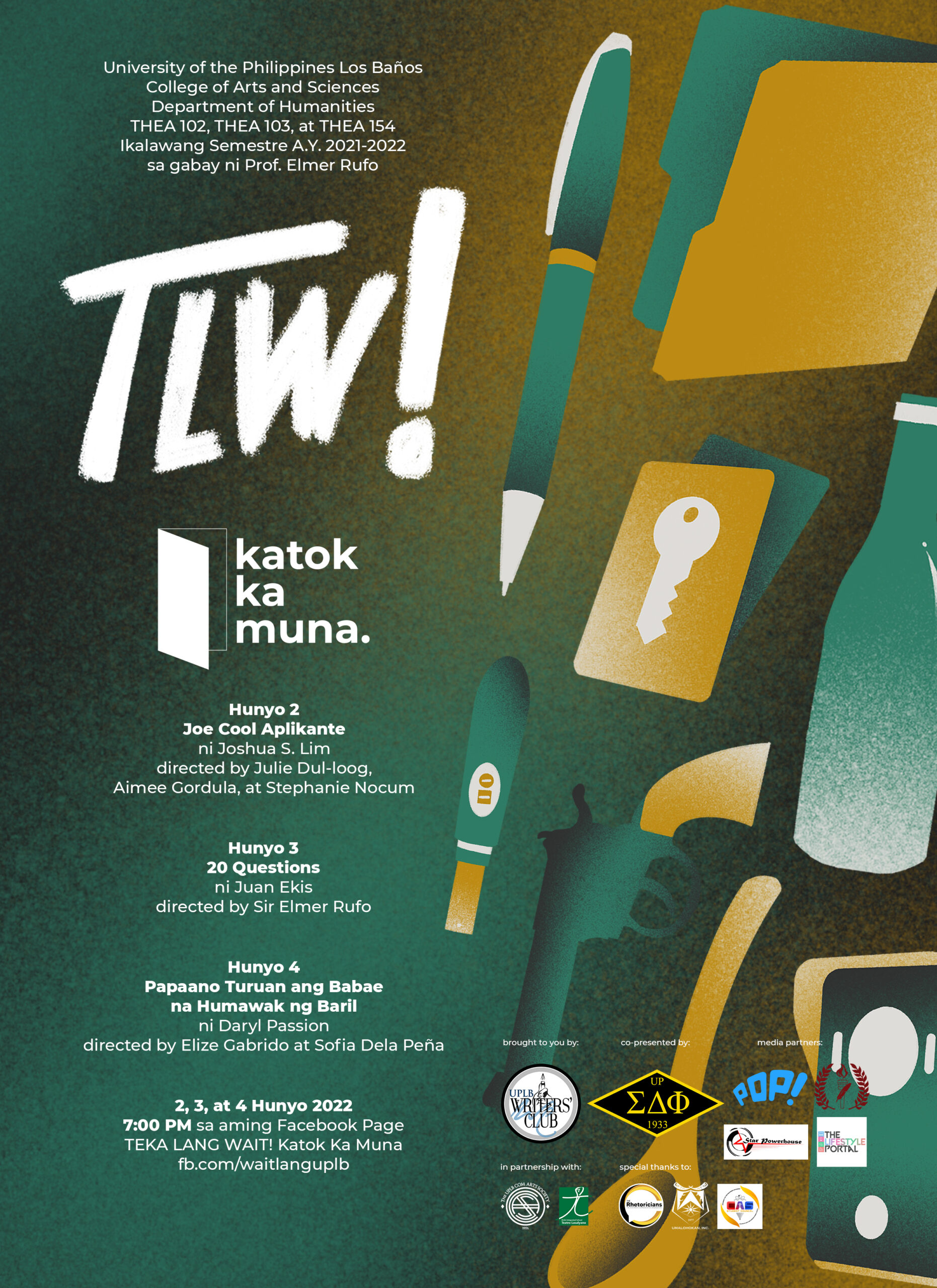 With all of the unfortunate things happening around the globe, everyone needs a breather. To give you exactly what you need, the students of the University of the Philippines Los Baños will take us to the world of digital theater with "TEKA LANG WAIT! 2: Katok ka muna" Play Festival.
As the second installment, the production name "TEKA LANG WAIT!" signifies its goal to be a breathing space in the middle of the chaotic world. "Katok ka muna" specifically represents the three relevant and eye-opening theatrical productions which all happen inside a room. This also stands for the production team who beautifully crafted the play inside their own rooms.
Despite the challenges brought by the pandemic, the students of THEA 102 (Theatre Communication), THEA 103 (Philippine Theatre), and THEA 152 (Directing) together with student volunteers will show beyond doubt that they can provide excitement and peace through their play festival.
The "TEKA LANG WAIT! 2: Katok ka muna" Play Festival will premiere from June 2 to 4, 2022 on their official Facebook page. If you are wondering what they have in store for you, here are the synopsis of the plays:
"Papaano Turuan Ang Babae Humawak ng Baril" by Daryl Pasion, directed by Justine Elize Gabrido and Sofhia Nicole Dela Peña
Oka was a jobless farmer forced by financial circumstances to join the CAFGU, a paramilitary group organized to augment the military effort against rebels. After one such encounter, he was able to take a leave to visit his wife Liling, who was now eight months pregnant.  What was supposed to have been a much-needed reunion turned into an emotional roller coaster when an impossible request had to be decided upon.
"20 Questions" by Juan Ekis, directed by Elmer Rufo
Two friends locked up in a room test their differences through a game of 20 questions, where each of them has to answer the other's questions. With a little liquid courage from a bottle of wine, daring topics and raw emotions will reveal troubles, concerns, and curiosities that they have been hiding. After a glimpse of each other's perspectives, where will this drunken game take their relationship?
"Joe Cool Aplikante" by Joshua Lim So, directed by Aimee Beatrice Gordula, Julia Iña Dul-loog and Stephanie Nocum
In a capitalist system, people tend to go with their accustomed way of life to work just to live.  Joe Cool is a fresh graduate who is trying to get a job in Dohesta Corporation. However, he needs to earn the spot by going through his greatest challenge— Miss Lyka Agulera, the company's interviewer. In a secluded and mysterious office room, Joe Cool's journey will show the plights of the working sector under a capitalist system.