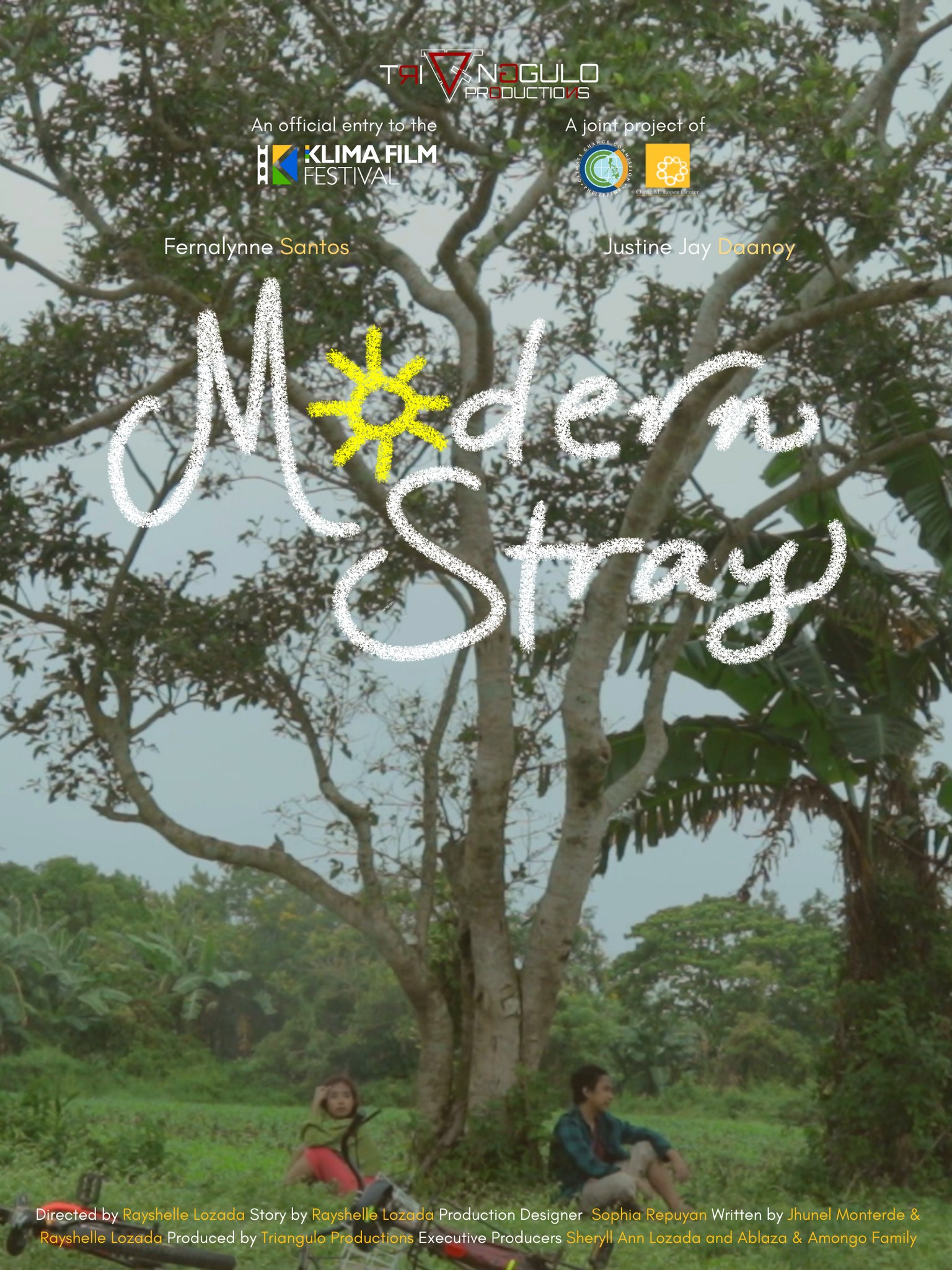 Student filmmakers from De La Salle-College of Saint Benilde secured a total of five awards from the Klima Film Festival, a competition which aims to spotlight the effects of climate change using short films written and produced by young Filipinos nationwide.
"Tanaw" directed by Kaila Ysavl Bergonio of Playback Multimedia brought home four trophies along with 30,000 pesos for winning second runner-up, 15,000 pesos for Best Screenplay, 15,000 pesos for Best Performance (Andrea Marie Bool), and 5,000 pesos for snaring the Gender-Responsive Award.
On the other hand, "Modern Stray" by Rayshelle Lozada of Trianggulo Productions won the Audience Choice trophy and 5,000 pesos and an additional 15,000 pesos for being one of the four KFF finalists. The KFF trophies are made from recycled materials.
KFF, a joint initiative of the Climate Change Commission and the Oscar M. Lopez Center, with the support of its official media partner iWantTFC and GIZ Philippines, aims "to mobilize the youth in amplifying the importance of local climate solutions to further increase their influence on local climate policy-making and generate local climate adaptation stories as viewed by young Filipino filmmakers by providing venue for the production and promotion of climate science-based short films."
In "Tanaw," Aira Mendoza (Bool) is a teenage student raised by her mother, a retired barangay captain and environmental activist. A school requirement brings her onsite in a quarry for a research project.
Bergonio's debut film was made in collaboration with another Benildean filmmaker, Allynna Santiago, and people they met through Cine Sundays, an online film community formed by director Dan Villegas. "Despite the pressure of a first timer joining a film festival like the KFF, we knew we wanted it to be a story that makes one think, a story that disrupted social views and shed new light on societal issues such as climate justice. Given the opportunity, 'Tanaw' is a film set to be a story that can make a difference."
Meanwhile, in "Modern Stray," Sunny De Vera (Fern Santos) has been called ill-mannered and materialistic. She devises a plan to showcase her roots in Batangas as she creates new content for her YouTube channel. In her province, she retraces her past with childhood friend Nanoy (Justine Jay Daanoy). Sunny's realizations and reflections push her to a new path as an environmental advocate.
Lozada remembers how often she obsessed with how time works, recalling how her mother also used to say that her type of stories is about time travel. "What inspires me to conceptualize the film 'Modern Stray' is about the idea of your past selves merging into this future self you wanted to portray. Like we're basically our real selves as a child but as time progresses, we learn to fabricate our own truths."
Aside from Santos and Daanoy, Lozada collaborated with co-writer Jhun Monterde, production designer, sound designer, and production manager Sophia Repuyan, co-production manager Darlene Cantos, cinematographers Terrence Santiago (who also edited the film) and Michael Musni (who also served as colorist), musical scorer Clio Gonzales, and voice actor Gabriel Buenabajo as Sunny's father and reporter.
The short films were judged by science, gender, and film experts Dr. Doracie Zoleta-Nantes, Dr. Rodel Lasco, Dr. Rolando Tolentino, Liza Diño-Seguerra, Honey Castro, and Sari Dalena for their cinematic attributes and technical execution, story and content, impact, as well as gender considerations.
The finalists of the KFF's past two editions may be viewed via iWantTFC until March 2023.