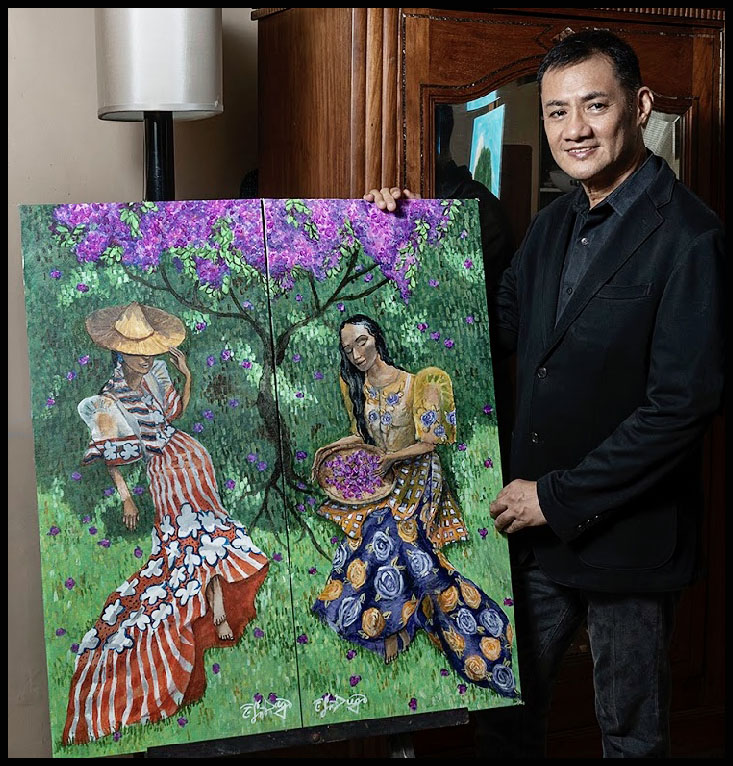 As haute couturier, Edgar San Diego has established a distinct name and brand for himself in an industry teeming with talent and artistry. His name is synonymous with clothes that are almost always larger than life, combining silhouettes that are habitually grand in scale with handcrafted details such as beadwork, embroidery, silkscreen printing, and painting. As such, his fashion has been hailed, time and again, as wearable works of art.
 It is no accident that San Diego approaches fabrics with the same conscientious thought and plotting as a painter would his canvas. As a young man aware of his passion for visual expressions, he enrolled at the University of Sto. Tomas to study Fine Arts. "To help me polish my talent and define which field of art I wanted to do," he tells. As if a portent of things to come, his early plates in school invariably led to fashion.
 His career path was further bolstered by his early experience as a window dresser in Plaza Fashion Mart at the former Harrison Plaza. Apart from honing his skill as a visual merchandiser, the exposure allowed him the opportunity to meet and work with some of the in-demand designers of the day.
 Looking back, he says, "I did hand paintings for gowns, a trend that time, for established designers like Kiko Rodriguez and Jun Jun Cambe. As a designer, my early projects were showband costumes, and personalized clothes for friends and referrals."
 With more experience and a newfound confidence in his talent, he soon asserted his own personal style and artistic inclination, expressed in clothes that take obvious allusions from traditional Filipino wear and adornment – from the tribal and indigenous to the Spanish colonial.
 Having given his full attention to his career in fashion, San Diego nevertheless fancied the day when he would pick up a brush and palette again to carry on his love affair with painting. In 2018, he rekindled this passion when he joined his UST Fine Arts batch mates in a reunion exhibit.
  "They helped me get back to painting. I felt I was not alone because we were all trying to overcome the 'blues' that came with becoming senior citizens," he laughingly remarks. 
His daughter Abby's deep love for arts also made the shift less daunting. Likewise, the subsequent pandemic that saw various industries – the fashion trade included – caving in as a result of the shutdown, proved to be an auspicious break. The absence of clients gave him more time to realign his focus to painting.
 The upshot is an initial body of works that is enticing in its depictions of an era in Philippine life that is long gone. San Diego's canvases are peopled by demure lasses in baro't saya, or in the more opulent Maria Clara, and gentlemen in barong Tagalog or camiza de Chino. These characters, in idyllic repose and against backdrops of elegant ancestral mansions or scenic landscapes, bring to life the traditions of the past and the leisurely pace of life that live on in old photographs and in the dying stories of those who lived during those tranquil times.
 Finding inspiration in the works of such acclaimed masters as Diego Rivera, Gustav Klimt, Claude Monet, Tamara de Lempicka, and Edgar Degas, among others, San Diego says his works are his personal statements on nationalism.
 He explains, " My paintings are unchanging in their presentation of Filipiniana themes, evident in the costumes, the furniture, the settings, and the sceneries that find their way into my canvas. These are the expressions of my love for country and its history."
 "Hopefully, through my visual creations, I could encourage and inspire others, especially the younger generation of Filipinos, to develop an interest in our country's fascinating history and our rich cultural heritage."