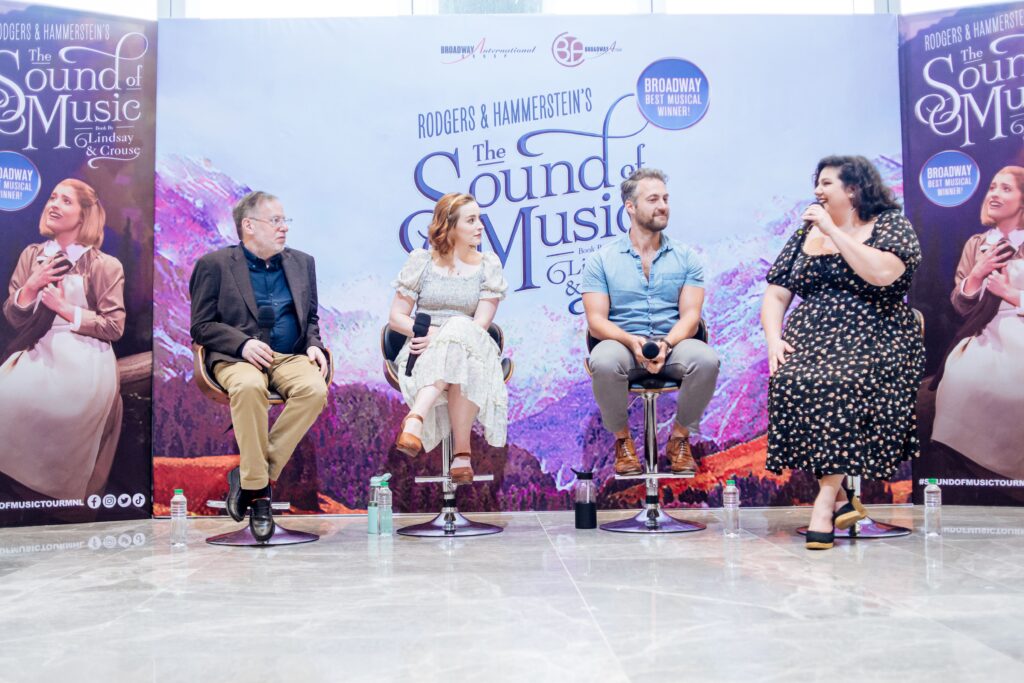 The international tour of Rodgers & Hammerstein's THE SOUND OF MUSIC, produced by Broadway International Group will arrive in Manila from March 7th to March 26th 2023. The brand new international production is set to be staged at the Samsung Performing Arts Theater in Circuit Makati.  Tickets are now on sale and available online at ticketworld.com.ph and TicketWorld outlets.
This highly acclaimed original production tells the uplifting true story of Maria, the fun-loving governess who changed the lives of the widowed Captain von Trapp and his seven children by reintroducing them to music, and culminating the family's flight across the Austrian mountains as tensions rise prior to the outbreak of World War II.
The tour is led by Jill-Christine Wiley as Maria Rainer, Trevor Martin as Captain von Trapp, and Lauren Kidwell as Mother Abbess. The musical will also feature THE SOUND OF MUSIC kids from North America who will be joining the full company for the first time during the Manila leg of the tour.
One of the most popular Broadway musicals in the international marketplace, THE SOUND OF MUSIC is celebrating its 65th birthday in 2024, having won five Tony Awards, including Best Musical, and the GRAMMY Award for Best Show Album, for its original run. It has since entertained generations of audiences in live productions across the world, as has the classic film starring Julie Andrews and Christopher Plummer, which won five Oscar Awards, including Best Picture.
THE SOUND OF MUSIC features music by Richard Rodgers, lyrics by Oscar Hammerstein II, book by Howard Lindsay and Russel Crouse, suggested by The Trapp Family Singers by Maria Augusta Trapp. The tour highlights the original creative work of three-time Tony Award® winning director Jack O'Brien, Broadway choreographer Danny Mefford, and Musical Supervision by Andy Einhorn as well as an established award-winning Broadway creative, design, and production team. Matt Lenz, Original Tour Restaging; James Gray, Original Choreography Restaging, Douglas Schmidt, set design; Jane Greenwood, costume design; Natasha Katz, lighting design; and Shannon Slaton, sound design.  Eric Cornell serves as General Manager for Broadway Asia International. Simone Genatt, Marc Routh and Broadway International Group are Producing, along with Co-Producers Roy Furman, Broadway Asia Group, Cornice Productions and Gabrielle Palitz, in association with GMG Productions. THE SOUND OF MUSIC is presented in special arrangement with Concord Theatricals, NETWorks Presentations and Broadway Asia Company. For more information, please visit www.broadwayasia.com
CAST BIOGRAPHY 
JILL-CHRISTINE WILEY (Maria Rainer)
Jill-Christine returns to the hills of Austria as Maria after portraying the role for two years on the National Tour. She recently played her 500th performance and is thrilled to continue sharing this timeless story with audiences across the globe! Other National Tours: Disney's Beauty and The Beast (u/s Belle, Ensemble) Other favorite credits include: R&H's Carousel (Carrie Pipperidge), Disney's The Little Mermaid (Ariel) Disney's Beauty and The Beast (Belle), The Fantasticks (Luisa), Little Women, The Musical (Beth). When not on the stage, she can be found doting on her dog, Lillie, and taking on as many DIY home renovation projects as possible!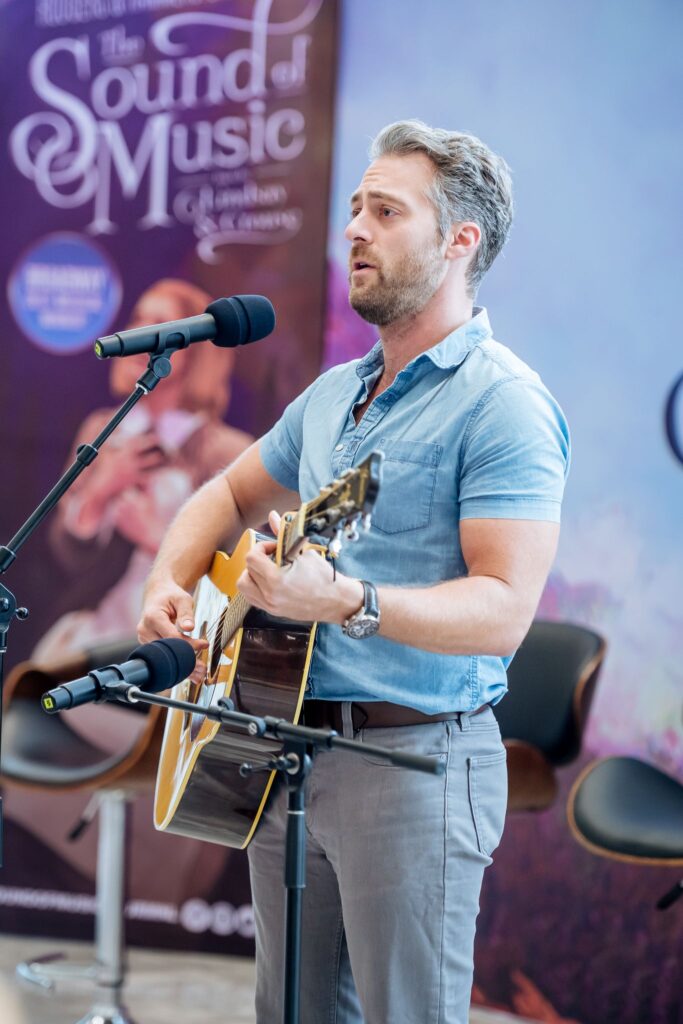 TREVOR MARTIN (Captain von Trapp)
Trevor Martin is a versatile actor, singer, and musician currently based in NYC. Described as a "classically-trained baritone, perfect for the Golden Age of musical theater," Trevor has made a comfortable home both in the operatic and musical theater genres. He was winner of the prestigious Lotte Lenya Competition sponsored by the Kurt Weill Foundation in 2019, and was selected as a quarterfinalist for the American Traditions Competition for 2021.
Trevor is currently performing in the Global Tour of The Sound of Music (Captain Von Trapp). He has performed at many regional theaters in a variety of musical theater and operetta roles. Some of these highlights include: Sweeney Todd  (Sweeney Todd), Beauty and the Beast (Beast), Guys & Dolls (Sky Masterson), White Christmas (Bob Wallace), West Side Story (Riff), See What I Wanna See (Man #1), HMS Pinafore (Ralph Rackstraw/Captain Corcoran), Camelot (Arthur), and End of the Rainbow (Anthony); at theaters such as: ZACH Theatre, Jennie T. Anderson Theatre, Sharon Playhouse, Revival Theatre Company, WaterTower Theatre, City Springs Theatre Company, Wolfbane Productions, Colorado Springs Fine Arts Center, and Seagle Music Colony.
He is a staunch advocate for new works, having been a part of many world and regional premiere operas such as: When Adonis Calls (Muse), TESLA (Mark Twain), Crude Capital (Coal and Cattle Club Member), Service Provider (John), Buried Alive (Victor cover), JFK (JFK cover), Amelia (Paul), and Voir Dire (Baritone Roles). The original cast recording for Voir Dire was released in the Summer of 2020. Other opera companies he has sung with are: Beth Morrison Projects, Fort Worth Opera, Opera San Jose, Virginia Opera, Madison Opera, Houston Grand Opera, Janiec Opera Company, SoBe Arts, Center for Contemporary Opera, Modern Opera Company, and Des Moines Metro Opera.
He also enjoys being a part of the creative process, by participating in workshops and readings of new works, both in opera and musical theater. Namely creating the role of John in a new opera entitled House of Legendary, which has been workshopped with the American Opera Project, and is slated for a premiere in 2022. Other notable workshops include: Goin' Hollywood (A.J.), The Sorrows of Frederick (Frederick/Hans Katte), The Night Falls (Python Hunter/Male Ensemble), Gilgamesh (Enkidu), and Pure Country (Earl).
Trevor has made a name for himself as a concert and cabaret soloist. He has performed masterworks, chamber music and pops concerts around the U.S. with ensembles such as: Fort Worth Symphony Orchestra, Ensemble Échappé, Norwalk Symphony Orchestra, Barry University Chorale, Southern Crescent Chorale, and Opera North.
Trevor also has made a career in commercial/print modeling and and is a budding VoiceOver artist. He is an avid pianist and guitarist, and is proud to support many social justice reform organizations. He currently serves on the board of multiple Diversity, Equity, and Inclusion Committees for different theaters, and is committed to these ideals in all aspects of the theater and academic worlds.
LAUREN KIDWELL (Mother Abbess)
Lauren Kidwell is an actor, singer/songwriter, and director. She is thrilled to be making her international debut as Mother Abbess in the International tour of The Sound of Music. Her most recent credits include Mother Abbess in the North American tour of The Sound of Music, Woman 2 in Songs for a New World (Gulf Coast Symphony), Mother in Ragtime (Brooklyn Players), Aunt March in Little Women (Gallery Players), Mutti in My Heart in a Suitcase (Artspower), Mary Magdalene in Jesus Christ Superstar (BoCo), and Frau Schmidt in The Sound of Music (Fireside Theatre). Lauren has also performed as a guest artist with the Boston Gay Men's Chorus and in FrancD'Ambrosio's "Broadway, Songs of the Great White Way" concert. She graduated from The Boston Conservatory with a Master of Fine Arts in Musical Theatre and also received her Bachelor of Arts in Theatre with an Emphasis in Directing from the California State University of Fullerton.  Lauren's directorial credits include The Light in the Piazza (Boston Conservatory), Fat Pig (Earthstone Theatre Company), Macbeth (EarthStone Theatre Company), Damn Yankees, (Saddleback Civic Light Opera), Violet (CSUF) and Little Women (CSUF). Lauren has also directed, written, and starred in a one-woman cabaret called Cinema in the Sahara. While in New York City, Lauren can be found performing alongside her younger sister in a professional jazz duo, aptly named The Kidwell Sisters.
TICKETING AND SHOW INFORMATION 
SEASON
From March 7 – 26, 2022
PERFORMANCE TIMES
Tuesday to Friday: 8:00pm  / Saturday: 2:30 pm and 7:30pm / Sunday: 1:30 pm and 6:00pm
BOOKINGS
Website:  ticketworld.com.ph
Tickets are also available on these outlets:
TicketWorld Head Office
Suite 701 V. Madrigal Bldg., 67893 Ayala Ave. Makati City
9am – 7pm
Samsung Performing Arts Theater
Ground Floor, Circuit Makati / 10am – 7pm