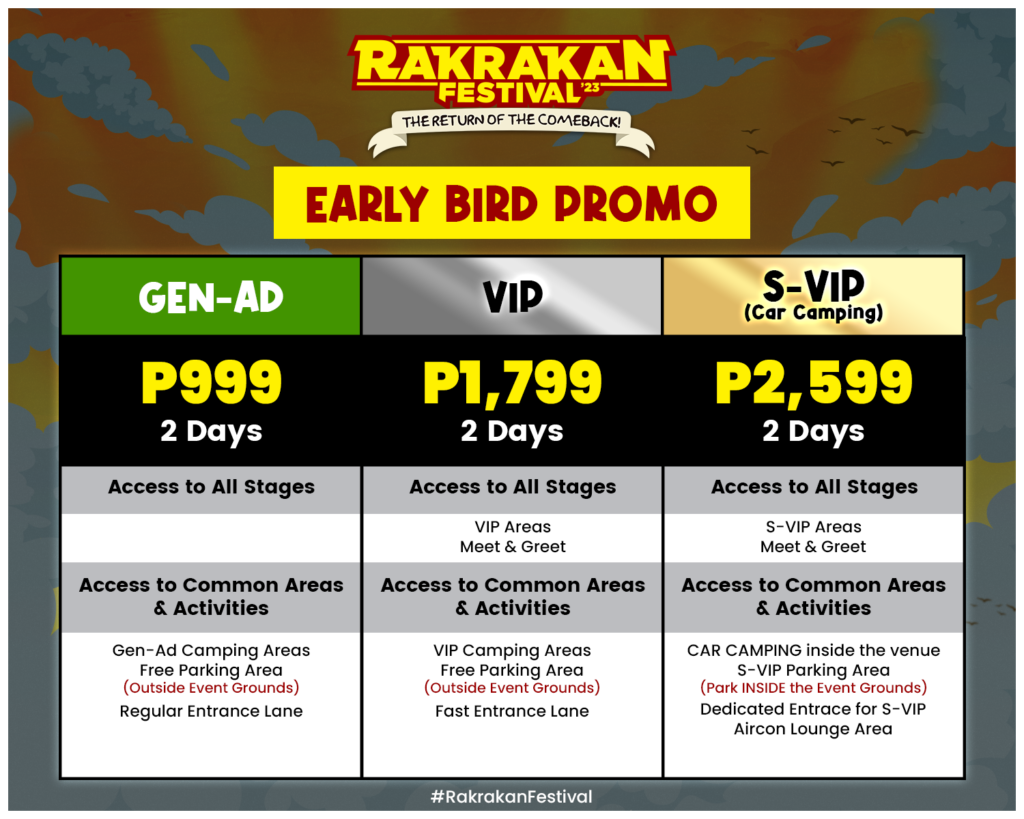 Are you prepared for the ultimate music festival adventure? Rakrakan Festival has here, and it is bigger and better than ever! This is the event you've been waiting for, with a fantastic roster and an unbeatable early bird offer. Get your tickets now and get ready to rock!
Grab your chance to experience the ultimate music festival with Rakrakan Festival's early bird promo! Enjoy discounted rates on two-day passes until supplies last, with prices starting at P999 for general admission, P1799 for VIP, and P2599 for S-VIP, all of which give you access to all activities. Plus, upgrades are available for tickets purchased for the postponed Rakrakan Festival 2020. Don't miss out on never-before-seen acts like camping while slamming to the beat, rap battles between acts, wrestling wits and words, skate competitions, and more!
Aside from the exciting promo, the festival also revealed its much-awaited band lineup. The 2023 edition of Rakrakan Festival features an impressive roster of over 150 local acts, including Rico Blanco, Franco, Mayonnaise, Gracenote, Dilaw, to name a few.
Rakrakan Festival has been the go-to music festival for rock and roll fans in the Philippines since its inception in 2013. The festival has since grown bigger and bolder, attracting tens of thousands of music enthusiasts from all over the country and beyond.
Don't miss out on the biggest rock and roll event of the year. Get your early bird tickets now and join the ultimate music experience at Rakrakan Festival 2023: 2 days of Peace, Love, and Music!
For more information and updates, visit www.rakrakanfestival.com and follow Rakrakan Festival on all social media platforms.