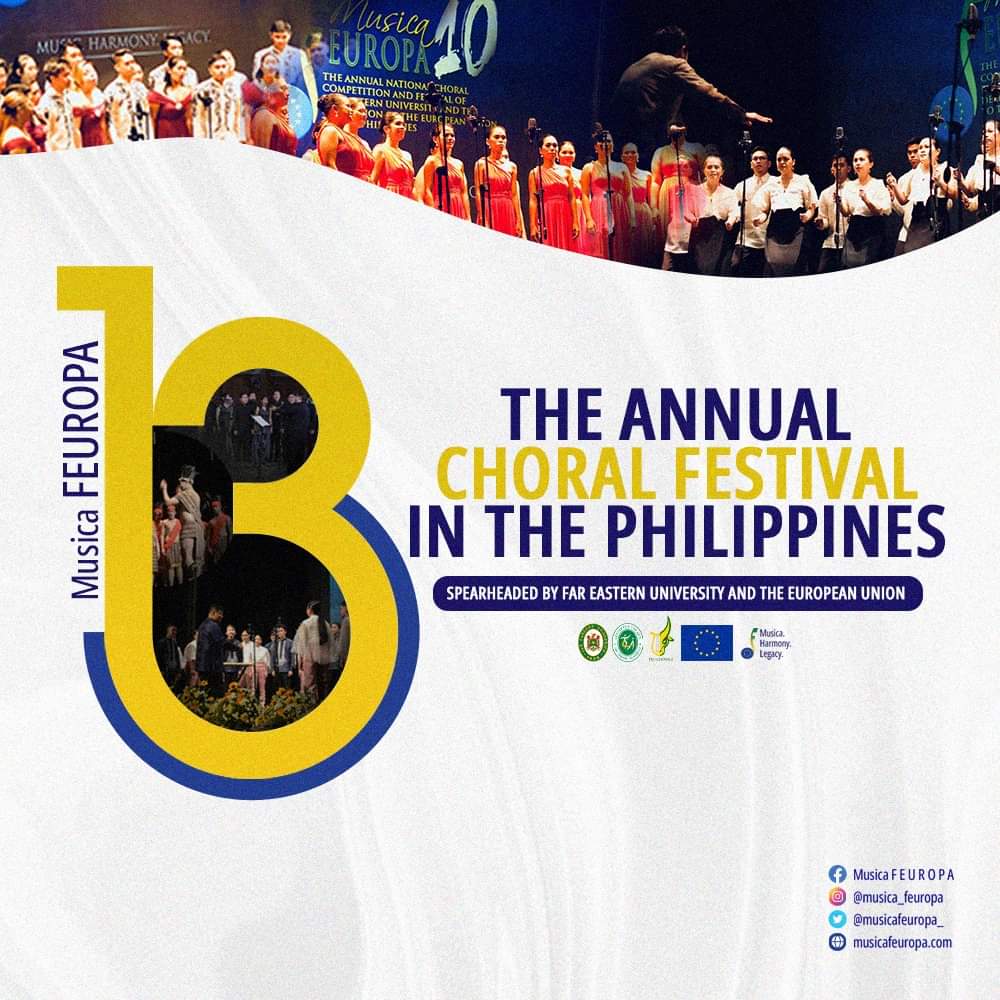 Spearheaded by Far Eastern University and the European Union
Musica FEUropa is Far Eastern University's annual national choral festival supported by the European Union in the Philippines.
It was initially named the European Union Choral Competition in the Philippines and was later on changed into Musica FEUropa in 2011.
Now in its 13th year, Musica FEUropa continues to brave challenges and adapt to innovations, shifting temporarily from the live to the virtual performances of choirs. While certain elements remain the same, there will be some differences.
The key criterion for Musica FEUropa is that each choir has to sing two songs: one from any EU composer in an official EU language and one from the Philippines.
Click here for the list of official EU languages: https://tinyurl.com/4chkjext In the last 13 years, choirs sang songs in Czech, Latvian, English, Basque, Spanish, Italian, German, Finnish, French, French-Flemish, Flemish, Hungarian, Lithuanian, Tagalog, Cebuano, Bisaya, Ifugao, Ilokano, Itneg, Kinaray-a, T'boli, Maguindanaoan, Yakan and Hiligaynon among others.
An important element of Musica FEUropa that choirs appreciate and seek are the critiques after their performance from esteemed choral practitioners.
Confirmed critics for MF13 are Prof. Mark Anthony Carpio, Dr. Edgardo Lumbera Manguiat, Dr. Maria Theresa Vizconde-Roldan, Prof. Ramon Lijauco Jr., Prof. Jonathan Velasco, and Mrs. Anna Abeleda-Piquero.
One innovation of Musica FEUropa this year will be the special awards awaiting the participating choral groups. The Best in Virtual Performance and the Best in Video Production will be awarded to the choral group that manifests an exceptional level of creativity and innovation.
Aligned with Far Eastern University's aims to "Brave Boundaries" and "Face the Future", Musica FEUropa 13
will serve as an avenue for choirs silenced by the pandemic to continue making music, being in harmony, and deepening their legacy.
Musica FEUROPA 13 takes place on May 28, 2022, 2:30 PM PHT via Zoom and will also be streamed on Musica FEUropa's Facebook page: Musica F E U R O P A | Facebook.
Free Admission!
Follow Musica FEUROPA
on Facebook, Twitter, and Instagram.
For inquiries, email info@musicfeuropa.com
#VivaEuropa2022
#SamaSamaTogether
#EUinthePhilippines