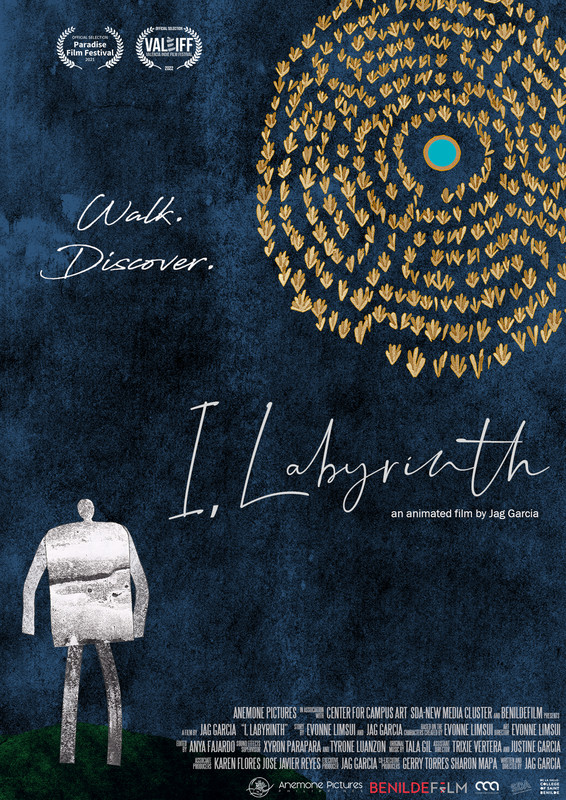 A first attempt at directing an animated film by the founder and former chairperson of the De La Salle-College of Saint Benilde Digital Filmmaking Department has been selected to compete in three different film festivals this December.
Jag Garcia's "I, Labyrinth" is part of the official selection of the Paradise and Valencia Indie Film Festivals based in Hungary and Spain, respectively, as well as the Oroquieta Film Festival 2021 in Misamis Occidental. Paradise and Valencia IFF are both monthly film competitions while the Oroquieta filmfest runs from November 28 to December 4.
In "I, Labyrinth," The Pilgrim finds himself lost amid the chaos of modern life. He comes upon a labyrinth where its center calls to him. As he journeys through the labyrinth, he faces the obstacles that keep him from reaching the center: himself.
"This project was born when I was teaching an elective in basic video production for non-film students. Evonne Limsui, an architecture student enrolled in the class, reached out to me. She was entering a silent book competition and did not have anyone around her to consult with regarding the story, its structure, or how to communicate the narrative visually and without words," Garcia recalled.
"She presented me with a simple story, but one rich in meaning and metaphor. She showed me her concept art as well, and from that point I was hooked – aside from helping her with the book competition, I asked if we could collaborate to turn the story into an animated film. She agreed," the writer-director and film educator, who has been teaching at Benilde for 20 years now, added.
Apart from Limsui, Garcia also collaborated with assistant directors Trixie Vertera and Justine Garcia, editor Anya Fajardo, sound designers Xyron Parapara and Tyrone Luanzon, and musical scorer Tala Gil.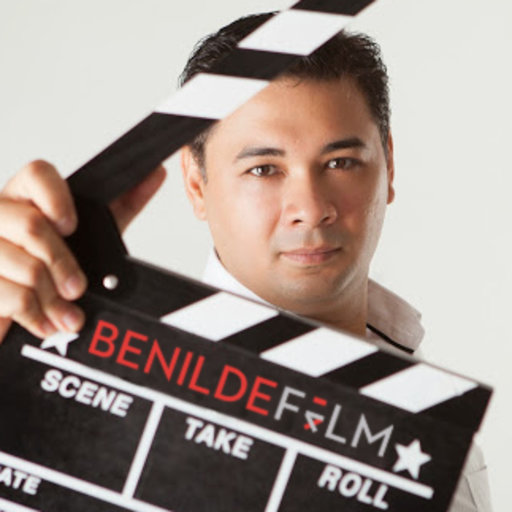 Garcia, who began professional media work during his sophomore year in college and has since spent 30 years in various fields of the media industry, gained "a greater degree of respect" for people who work in animation after working on the project.
This is also reflected in his latest work. "If we consider that a labyrinth is an ancient spiritual exercise for meditation, prayer, and contemplation, this film project was that for me. It was a chance to focus, to consider, to get – and stay – on a path towards a center. It was a journey of discovery, introspection, and realization," he stressed in his director's note.
Garcia is a recipient of the Senior Artist for Asia Fellowship at the University of New South Wales in Sydney, Australia where he earned his Masters in Cross Disciplinary Art and Design. He is also a co-author of "The Media Kit: A Frame-by-Frame Guide to Visual Production," a contributor to "The Encyclopedia of Philippine Art" of the Cultural Center of the Philippines, a developer of Department of Education modules and Technical Education and Skills Development Authority curricula for Media Arts, a corporate trainer, and an avid underwater photographer.
The animation is part of "Puzzles of the Self" in the Oroquieta filmfest's Amihanan Shorts Competition (Luzon Short Films). Under this set are "films that evoke our process of self-discovery, preservation, determination, identity, and acceptance." The films may now be viewed online for free in their Virtual Theater at Cinema Archipelago: https://vimeopro.com/cinemarchipelago/oroquieta-film-festival-2021.
"I, Labyrinth" is also available at the DLS-CSB Center for Campus Art website as part of the online art exhibition "To Differ Digitally 2: Love and Dissent in the Time of Pandemic" (https://www.benildecampusart.com/exhibit/to-differ-digitally) co-curated by CCA director Gerry Torres and Karen Ocampo-Flores.
Joining Garcia in the exhibit are his fellow film educator and filmmaker Seymour Barros Sanchez, motion graphics artist and designer Yolec Homecillo, multimedia designer Hannah Sison, 3D artist Volty Garcia, graphic designer and writer Katrina Juane, visual communicator Vanessa Puente, visual artist Emily Mones, designer, writer and artist Brian Bringas and graphic designers Dino Brucelas and Rafael Liao, writer and designer Ericka Garalde, multidisciplinary artist Teta Tulay, event consultant Mito Tubilleja, writer and content developer Penny Angeles-Tan, photographer Jay Javier, and animator Benjie Marasigan. The artist-educators are part of the DLS-CSB New Media Cluster faculty under Associate Dean Maria Sharon Mapa Arriola. This is the second time in four years NMC collaborated with CCA.
For more information about the exhibit and other projects, visit CCA's social media accounts on Facebook (https://www.facebook.com/BenildeCampusArt), Twitter (https://twitter.com/csbcampusart), Instagram (https://www.instagram.com/benilde.campusart/) and YouTube channel (https://www.youtube.com/c/BenildeCampusArt).