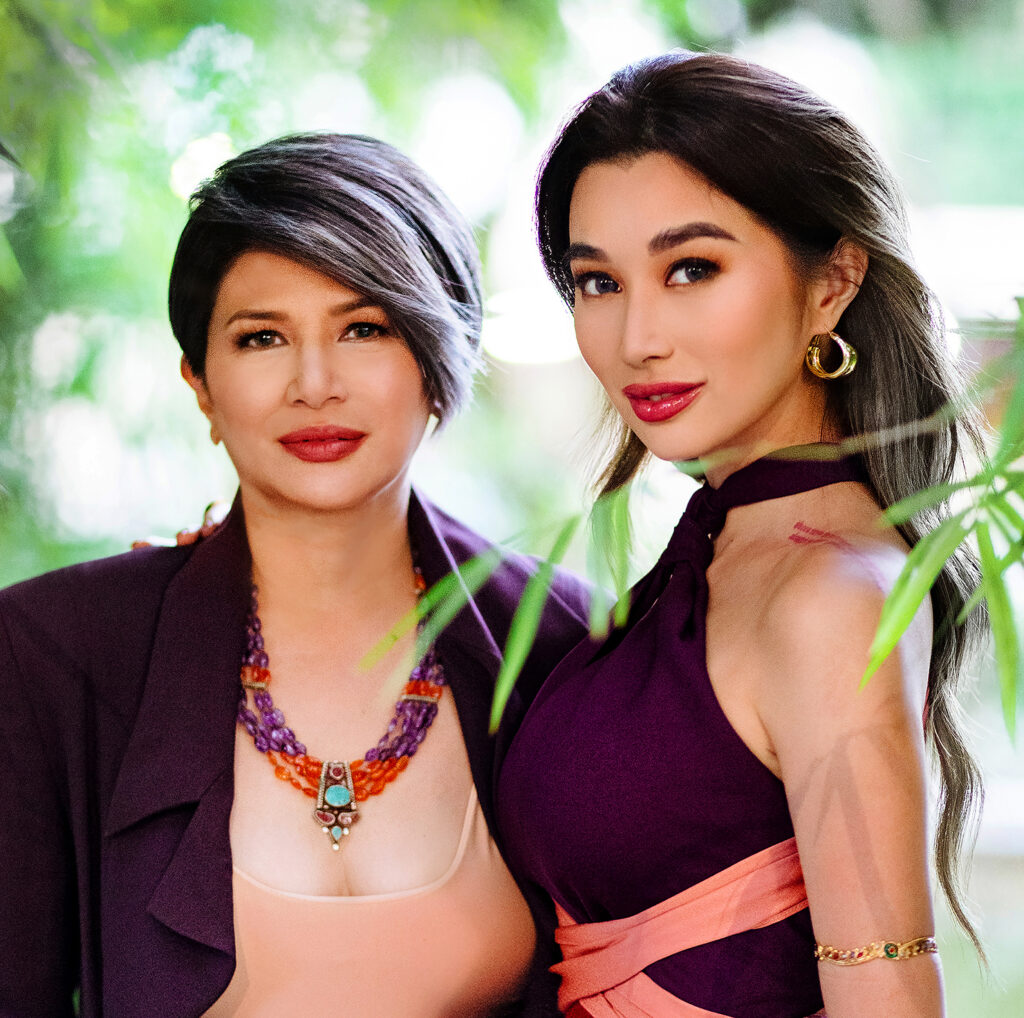 As a special Mother's Day tribute, noted mother-daughter artists IWI and NICOLE LAUREL will launch their duet song 'SPECIAL MEMORY' on May 9 via Spotify.
The music video will be launched on May 14 via Facebook Live
Background:
How can a 19 year old Iwi Laurel juggle her love for theatre, multiple singing stints, a restaurant job and a pre-law college course, unknowing that she would encounter a simple melody that would change her life forever.
The year: 1983
" It was during a rehearsal for a play we were doing with Repertory Philippines when a friend of mine, Raymond Lauchengco asked me if I could sing one of the songs on the soundtrack of a movie he was working on with Gary Valenciano called "Hotshots".
It was a song meant to appear in the dream sequence of the movie. I said yes, and immediately they gave me the study material on casette tape.
They sent the tape at 11:00AM and by 1:00PM that day, I found myself in the studio.
The music and lyrics were composed by Cecile Azarcon and arranged by Homer Flores And I did my little bit and after one take they dismissed me, and that was it.
This song really took me by surprise because way back in 1983, I was singing, working and studying at the same time, so when I was offered this song, I thought my mind was set on becoming a lawyer, But then the film became a hit and the song garnered awards, and so I guess I became a singer, not a lawyer.
It was three years after Iwi's serendipitous first encounter with the Cecile Azarcon masterpiece that she had become a mother to Nicole.
Raising Nicole as a single mother had its many challenges, but ultimately, an unbreakable bond between them, through blood, unconditional love and music was forget.
Nicole recounts her utmost gratitude through a musical tribute.
" Growing up I was familiar with "Special Memory" because everyone knew my mom for it and I would constantly run into people who would ask me:
"So, you are Iwi's daughter…. Can you sing her song?" I grew up around that beautiful melody, but it was only as I got older that I realize how much more "Special Memory" meant to me than a song my mother once sang.It was the last song she recorded before changing her life entirely to raise me.I saw how tough things were for mom when I was growing up around her, how she worked tirelessly making ends meet, how she made countless sacrifices to ensure me a better life.I relished every home cooked meal and home baked cake. I saw the tears and I saw the happiness, I am forever grateful."
Fast forward 2021
Nicole found herself taking shape in familiar shadows, nestling her feet in the sand beneath her mother's footsteps, after all…. so much of history, though unplanned,  seemed to repeat itself.
"It was Mom who encouraged me to be independent and move out when I turned 21.I found that like her, I also had aspirations to be a lawyer, grew up doing a couple plays with Repertory Philippines, spent my college days doing bar gigs at night and even worked part time in a restaurant just like her.We never talked about it, but it seems that so much of her was ingrained in me.
The parallelisms were undeniable.
Years later, after Dad passed away, it was just the two of us left, and it really makes me look back on the years she raised me.
I just felt an overwhelming desire to thank her somehow.
It was then when I first attempted to reach out to Ms. Cecile Azarcon's publisher to ask permission if we could remake the song and re-arrange it as a duet. Through the wire, Ms. Cecile gave her blessing and my heart was full.
It was during those days that I was also in constant talks and jam sessions with my regular keyboardist and arranger, Nikko Rivera.
I was absolutely delighted to find out that the prolific Mr. Homer Flores had arranged the original version of "Special Memory.
He is like a father figure of sorts to Nikko and I thought it would be an interesting twist to have a stellar and greatly accomplished "father and son-in-music" arrange the 2021 version of the song as a tandem.
Thankfully Nikko immediately said yes.
A week later I had bumped  into Mr. Homer at Nikko's wedding and mustered up the courage to ask him if he would be willing to arrange it.
I could not be more grateful that they both said 'yes,' and the arrangement that came of these two great musical forces was sensational.
Mr. Homer, Nikko and the rhythm section recorded in their homes, and as soon as I had the tracks, we immediately booked Wildgrass studios where the horns section  and vocals were recorded.
The tracks were then mixed by award-winning engineer Angee Rozul and mastered in Abbey Road UK.
"You will always be a special part of me. "
The Cecile Azarcon classic masterpiece is truly a "Special" on  it spans generations, it forges a unbreakable bond between a mother and a daughter, who through their unique voices, sing together, creating wonderful moments to cherish.
"I'll put together all of your laughter like a symphony."
Everything my mother did through the years is God's ultimate blessing to me, and not a day goes by that I try to give thanks for it.  I wish there was more I could do to thank her, but for now, I hope this simple celebration of love will do.
I love you mom. Happy Mother's Day!
SONG CREDITS:
MUSIC AND LYRICS: CECILE AZARCON
ARRANGEMENT: HOMER FLORES AND NIKKO RIVERA
PRODUCER: NICOLE LAUREL ASENSIO AND IRA CRUZ
DRUMS: OTEP CONCEPCION
BASS: KAREL HONASAN
GUITAR: IRA CRUZ
PIANO AND SYNTHS: HOMER FLORES
ELECTRIC PIANO AND SYNTHS: NIKKO RIVERA
SAXOPHONE: MICHAEL GUEVARRA
TRUMPET: LESTER SORILLA
TROMBONE: ISLA ANTINERO
VOCAL ARRANGEMENT: YOSHA HONASAN
VOCALS: IWI LAUREL AND NICOLE LAUREL ASENSIO
TRACKING ENGINEER: JESS FERMINO
MIXING ENGINEER: ANGEE ROZUL
MASTERING ENGINEER: GEOFF PESHCE (ABBEY ROAD STUDIOS UK)
EXECUTIVE PRODUCER: NICOLE LAUREL ASENSIO