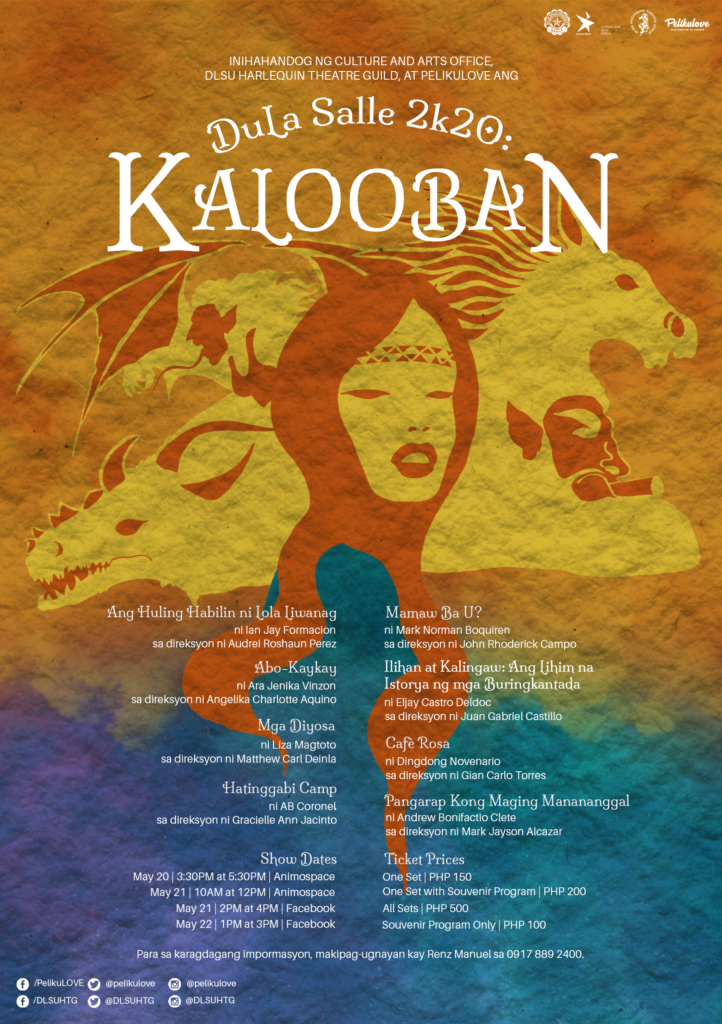 DLSU Harlequin Theatre Guild, the premier and only recognized theatre organization of De La Salle University, will soon be presenting their 2nd online production entitled DuLa Salle 2k20: Kalooban.
DuLa Salle 2k20: Kalooban will be showcased for three days from May 20-22, and will be broadcasted via the Animospace platform and a closed Facebook group on its last day.
Keeping up with the tradition of having different DuLa Salle themes every year, this year's DuLa Salle 2k20: Kalooban will be an anthology series consisting of 8 stories that tackle modern Filipino values and social issues through the form of Filipino mythology and epics.
The event is in partnership with the multi-art organization Pelikulove, founded by Ellen Ongkeko-Marfil, and has offered multiple courses in playwriting like the Rody Vera Online
Playwriting Course. The writers for all 8 stories of DuLa Salle 2k20: Kalooban hail from the organization.
The stories are as follows:
Set A
Ang Habilin ni Lola Liwanag (Written by Ian Jay Formacion, Directed by Rosh Perez)
Abo-Kaykay (Written by Ara Jenika Vinzon, Directed by Angelica Aquino)
Set B
Mga Diyosa (Written by Liza Magtoto, Directed by Matt Deinla)
Hatinggabi Camp (Written by AB Coronel, Directed by Gray Jacinto)
Set C
Ilihan at Kalingaw (Written by Eljay Castro Deldoc, Directed by Juan Castillo)
Mamaw Ba U? (Written by Mark Boquiren, Directed by DB Gianan and Rhoderick Campo)
Set D
Pangarap Kong Maging Mananggal (Written by Andrew Clete, Directed by Jayson Alcazar)
Cafe Rosa (Written by Dingdong Novenario, Directed by Gian Torres)
The show details are listed below:
May 20, 2021
Animospace:
● 3:30 – 5:00 PM: Set A
● 5:30-7:00 PM: Set B
May 21, 2021
Animospace:
● 10:00-11:30 AM: Set C
● 12:00- 1:30 PM: Set D
Facebook
● 2:00- 3:30 PM: Set A
● 4:00-5:30 PM: Set B
May 22, 2021
Facebook
● 1:00- 2:30 PM: Set C
● 3:00- 4:30 PM: Set D
Ticket Prices
One Set: PHP 150
One Set with Souvenir Program: PHP 200
All Sets: PHP 500
Souvenir Program Only: PHP 100
DLSU Harlequin Theatre Guild aims to continue spreading awareness towards social issues
prevalent in Filipino society all the while advocating Filipino culture and arts.
For more information and updates, contact Renz Manuel at 0917 889 2400 or visit DLSU
Harlequin Theatre Guild's Facebook page (facebook.com/dlsuhtg). See you there!