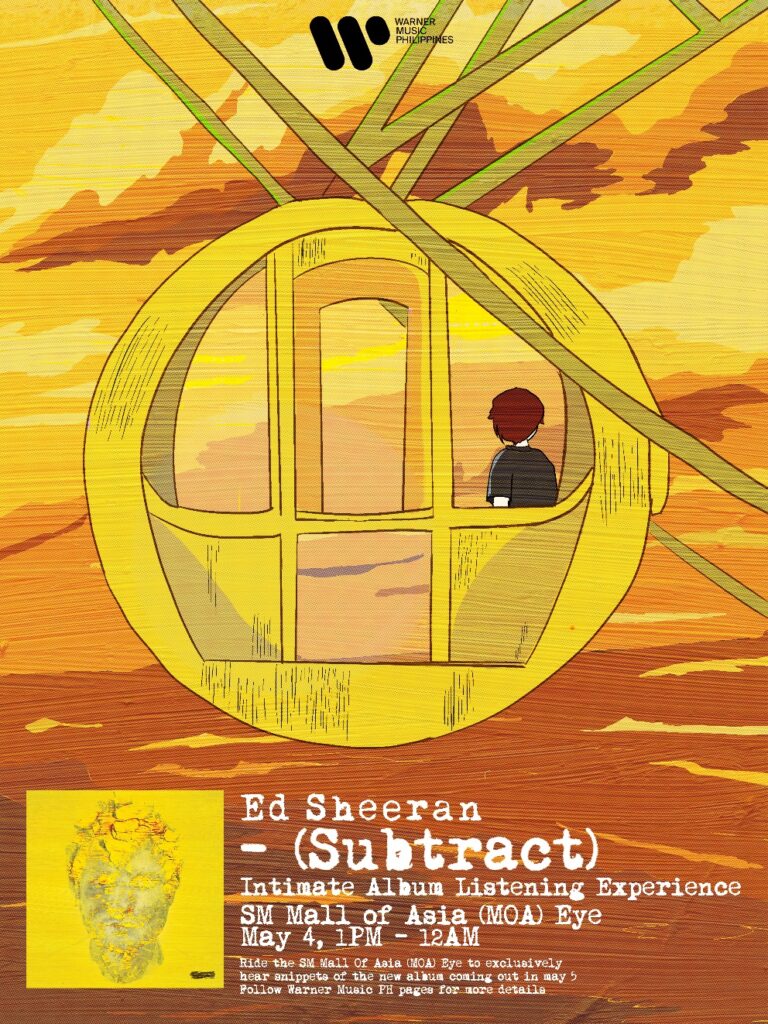 Congratulations, Filipino Sheerios! You have the opportunity to be among the first to hear Ed Sheeran's upcoming fifth studio album, 'Subtract.'
On May 4, 2023, Warner Music Philippines will provide a special album listening experience at the Mall of Asia (MOA) Eye. This is the day before Ed Sheeran's new album is slated to be released across all platforms.
Each cabin on the MOA Eye will be transformed into a private 'Subtract' listening booth, giving fans the once-in-a-lifetime experience of riding the ferris wheel while listening to bits of new Ed Sheeran music. To participate in this event, simply visit the MOA Eye during mall hours and pre-save the album on their preferred listening platform – it's that simple!
As if being the first to hear 'Subtract' wasn't thrilling enough, people who attend this event will also have the chance to win authentic Ed Sheeran goods.
Those who have been following the British singer-songwriter's journey know that his upcoming album will be the most honest and vulnerable one yet, as it draws from hard-hitting events that Ed has faced in recent years.
He recently released a new single called "Eyes Closed," which has an upbeat pop feel to it. However, closer inspection of the lyrics reveal that it captures the essence of love and loss, which is also reflected in the official video.
 "This song is about losing someone, feeling like every time you go out and you expect to just bump into them, and everything just reminds you of them and the things you did together. You sorta have to take yourself out of reality sometimes to numb the pain of loss, but certain things just bring you right back into it," Ed shared about the song and its video.
 If this single gives any indication of what we can expect from 'Subtract,' it's clear that Ed's new album will be one that bares his soul and taps into his most genuine emotions.
So what are you waiting for? Mark your calendar as not to miss the opportunity to be one of the first people to experience Ed Sheeran's 'Subtract'!
Register here: https://wmp.lnk.to/SubtractatMOAEYE