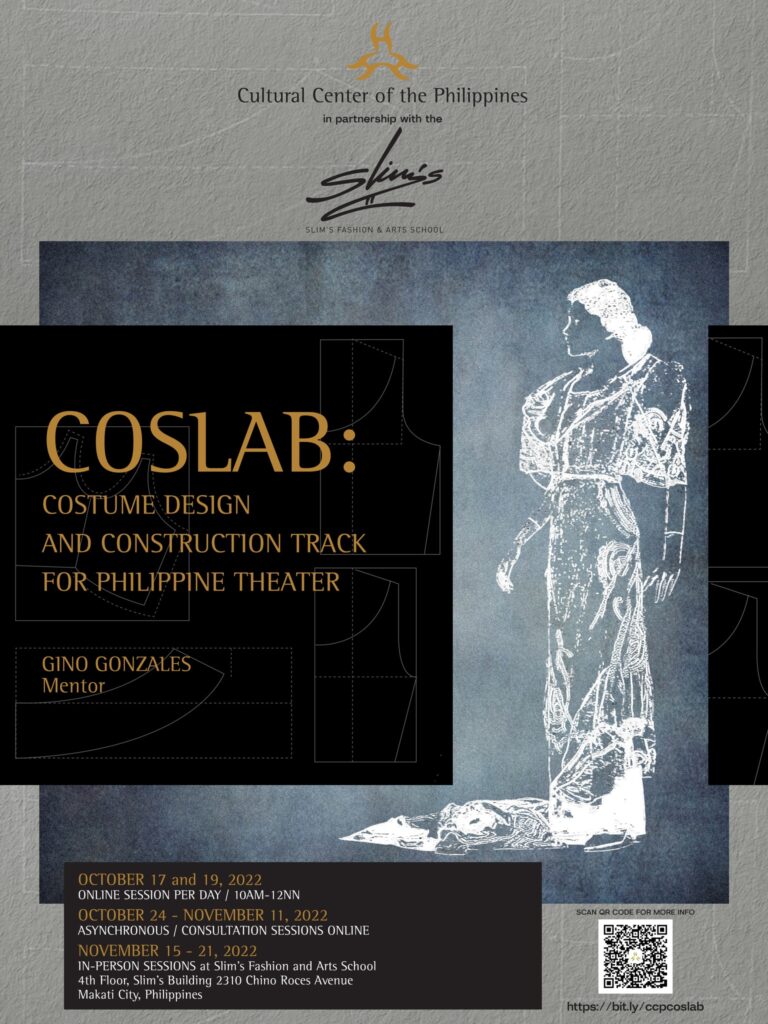 CULTURAL Center of the Philippines launches COSLAB: Costume Design and Construction Track for the Philippine Theater, a hybrid workshop on costume design, pattern-making, and construction of period costumes based on extant garments.
In partnership with SLIM's Fashion and Arts School, the workshop opens on October 17 and 19, 10am to 12nn, with online lectures and discussions.
Asynchronous consultation online sessions run from October 24 to November 11, while in-person sessions will be on November 15 to 21, at Slim's Fashion and Arts School, located at 4/F SLIMS Building, 2310 Chino Roces Avenue, Makati City, Philippines.
The short course is designed to address costume design and construction in the Philippine theater context, aiming to inspire and motivate emerging designers and technicians to pursue costume design and/or costume construction for the theater.
Gino Gonzales, an award-winning designer, author, and mentor, will facilitate the workshop.
An advocate of the Philippine terno, Gonzales will share his knowledge on the brief history of the period to provide them with an understanding of the context of how these dresses were worn and how they evolved throughout the century.  Through this, designers will hopefully gain new perspective and appreciation on Filipiniana through participating in the making of traje de mestiza/terno patterns.
Propagating the proper construction of Filipiniana costumes in local theater productions, each participant is expected to produce a finish of the 1880s traje de mestiza, one (1) finished 1900s serpentine, and one (1) finished 1920s terno.
The workshop aims to improve the skills of the participants in crafting proper and appropriate national period dresses and address the deficiencies in design and technical skills amongst practitioners.
Aspiring and practicing Costume Designers and Clothing Technicians will be invited to attend the workshop, preferably with some experience in theater and/or performing arts.
Note that this workshop is open to limited slots only and registration is until October 13, 2022 only.
For more updates, follow the official social media accounts of the Cultural Center of the Philippines or visit https://bit.ly/ccpcoslab