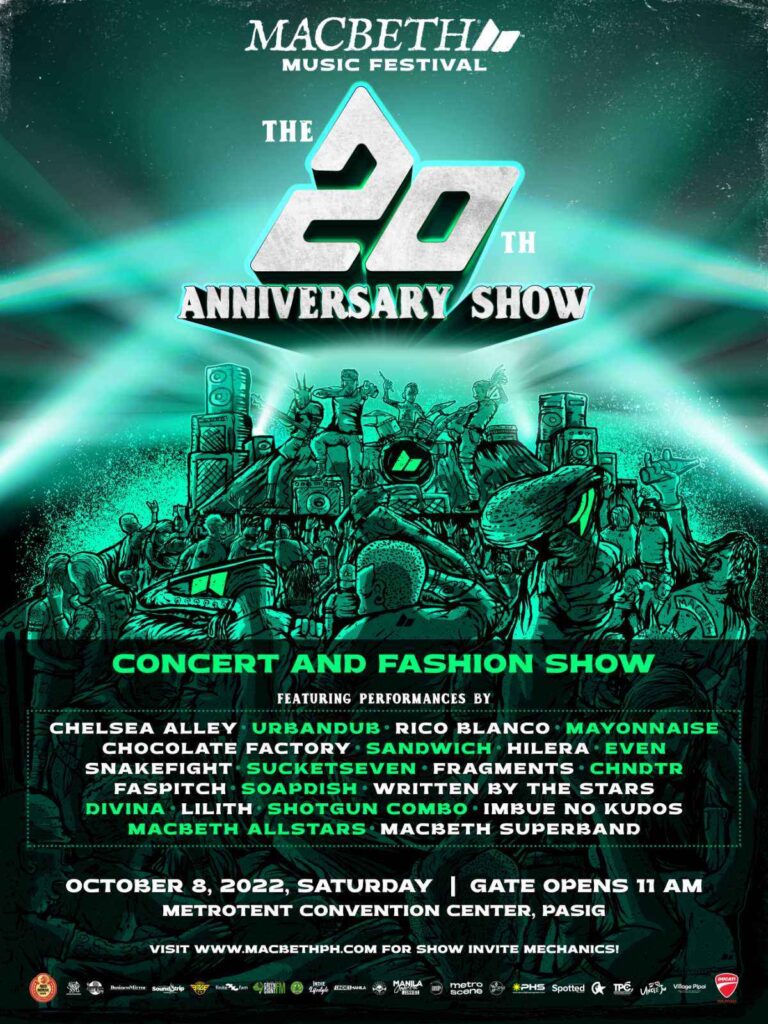 On October 8, 2022 at Metrotent Convention Center, Pasig City, it's time to celebrate Macbeth's 20th Anniversary and experience the extraordinary wall of sound and recognize the beloved fashion statement Macbeth has been expressing for so many years! Gate opens at 11 AM!
For every 1,200 pesos worth of single receipt purchase of any regular-priced Macbeth Merchandise, you're entitled to enjoy the night with your favorite performing OPM Bands and witness as the Macbeth All-Stars will slay their walk with confidence in the Macbeth Fashion Show!
Visit www.macbethph.com for show invite mechanics!
*Valid single purchase receipts: From August 25, 2022, until October 7, 2022 ONLY*
This 20th Anniversary Show will be the official launch of Lady Macbeth and Macbeth Underwear, 10 years of Macbeth in the Philippines, and 20 Rocking Years of Macbeth in the World.
With Macbeth's love of Music, Art and Denim, this Music Festival will feature a live band and fashion show collaboration, showcasing the latest of Macbeth's Collection.
Macbeth Live performances include Chelsea Alley, Urbandub, Rico Blanco, Mayonnaise, Chocolate Factory, Sandwich, Hilera, Even, Snakefight, Sucketseven, Fragments, CHNDTR, Faspitch, Soapdish, Written By The Stars, Divina, Lilith, Shotgun Combo, Imbue No Kudos, Macbeth All Stars and Macbeth Superband
Macbeth booth and merchandise will also be available for sale on the upcoming Rakista Jam: The Return Part 2 on September 24, 2022 at Eton Centris, Quezon City!
Macbeth apparel and footwear brand for artist by the artist since 2002. At Macbeth everything we do is rad. Macbeth, step into our world of art and music. #20RockingYears
So, what are you waiting for? Hurry up now and celebrate with us as there are limited slots available!