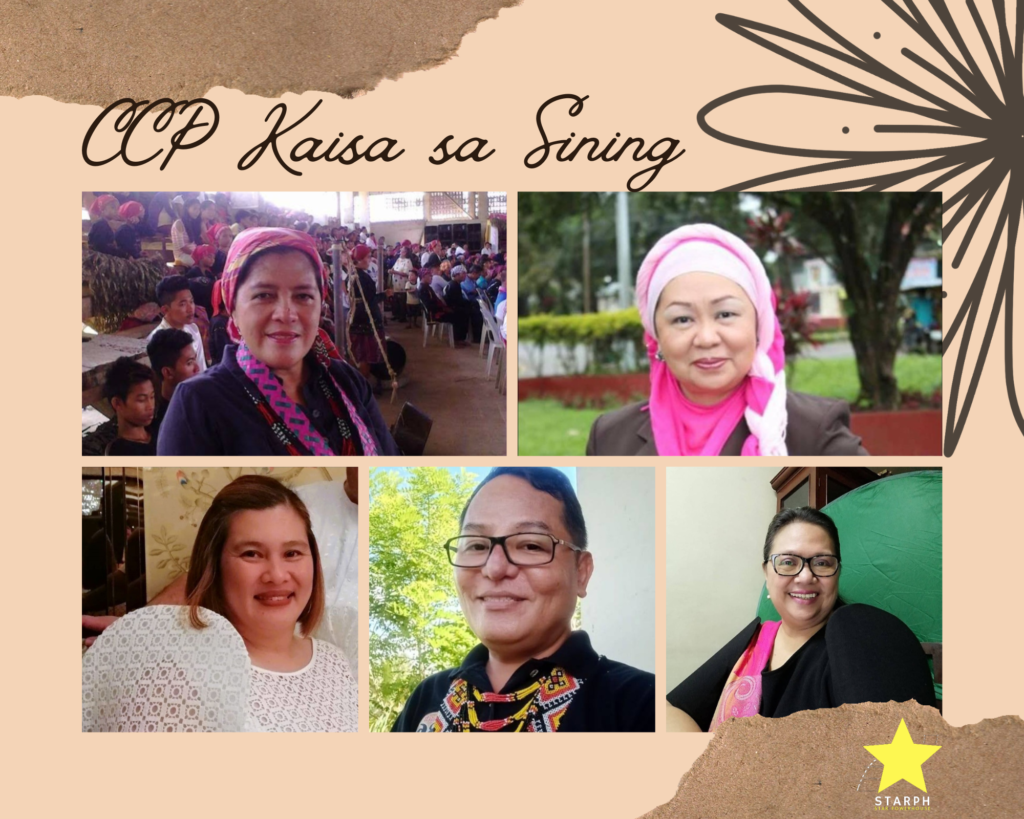 Four representatives of the CCP Kaisa sa Sining (KSS) Regional Arts Centers, namely Renefe M. Tremedal (Pagadian), Cecile B. Mambuay (Marawi/Cagayan de Oro), Lolilto M. Pontillas (Agusan del Sur), and Marichelle S. Bernardo (Malolos,Bulacan), will participate in the 1st China-ASEAN Intangible Cultural Heritage (ICH) Week in Nanning, China from April 22 to 26, 2023 with CCP Cultural Exchange Department manager Carmencita Bernardo as the head of delegation.
The ICH Week seeks to increase exchanges and collaboration between China and ASEAN in the conservation, inheritance, and usage of intangible cultural heritage, publicity and promotion, development of cultural tourist resources, and brand creation. It is co-sponsored by the China Intangible Cultural Heritage Protection Center, the Guangxi Zhuang Autonomous Region Department of Culture and Tourism, and the Nanning Municipal People's Government.
The Philippine delegation will exhibit, demonstrate, and perform pieces of Philippine intangible cultural heritage. They will also take part in forum talks with China-ASEAN delegates about each country's activities and policies for preserving and propagating its intangible culture.
The CCP KSS representatives are actively involved in major programs on intangible cultural heritage in their respective regions.
Tremedal is the project director of the Dumendingan Arts Guild (DAGI), regional coordinator, NCCA Institute of Living Tradition, and a member of the Research & Inventory Team on Intangible Cultural Heritage of Mindanao.
Mambuay is former dean and faculty regent of the Mindanao State University Marawi City, who is extensively involved in theatre and performing arts of the Iranun, Maguindanao, Sama, and other
Muslim and indigenous groups of Mindanao.
Pontillas is the associate dean of the College of Teacher Education,  and director of the Culture & Arts Office of the St. Francis Xavier College, Agusan del Sur. He is also the coordinator for the cultural programs on Manobo Cultural Community of Agusan.
Bernardo is an administrative officer of the Malolos City Culture, Arts, Tourism Office. She is also an artist, demonstrator, and facilitator of PUNI de Malolos, Leaf Art, and a member of the Advocates for Heritage Preservation.
Facilitated by the CCP Cultural Exchange Department (CED), the Philippine participation in the 1st China-ASEAN Intangible Cultural Heritage Week is another opportunity to further strengthen cultural ties and promote understanding and brotherhood among Filipinos, Chinese, ASEAN and other nationals.