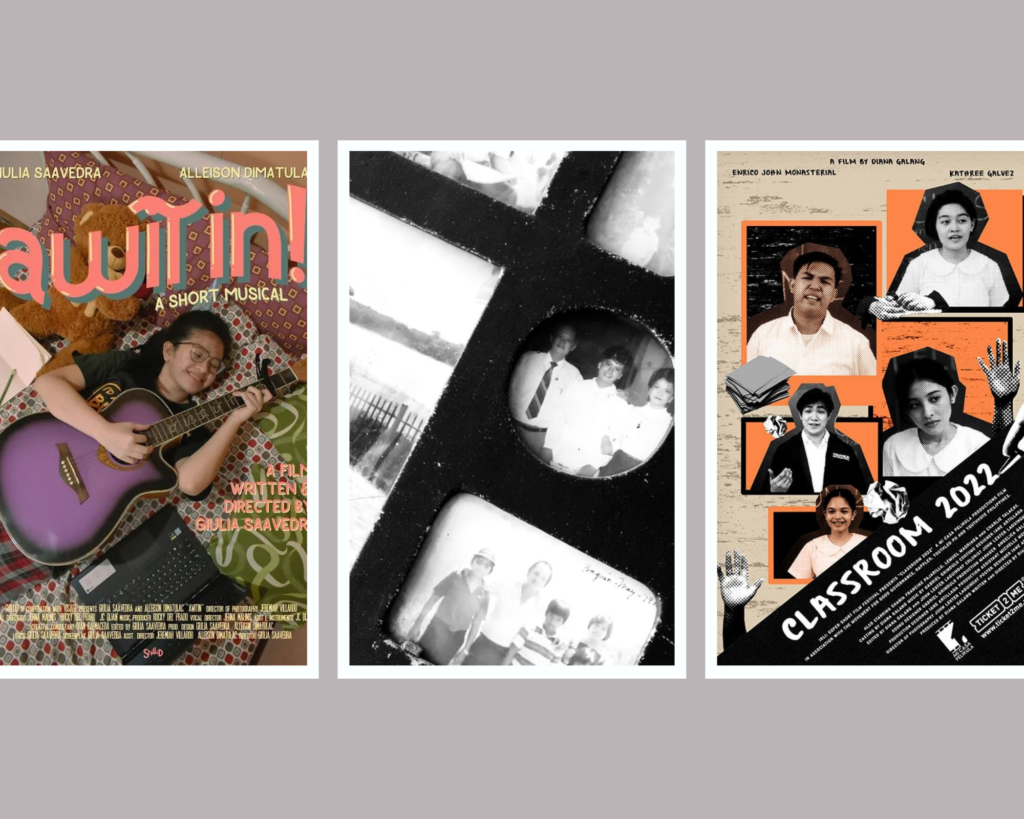 Fourteen student filmmakers from De La Salle-College of Saint Benilde, majority of them winners in different competitions, will screen their works for free at the official launch of two initiatives from the Film Development Council of the Philippines that are designed to foster a new generation of filmmakers.
The unveiling of the FDCP's Academic Film Society and Student Film Assistance Program is scheduled on March 18, at the Cinematheque Centre Manila, in-between screenings of a set of student films each from DLS-CSB and Western Visayas State University. In line with these two programs, the FDCP is also developing a platform to provide support and make resources more accessible in the academic setting.
The first set of DLS-CSB films, namely "Sina Alexa, Xander at ang Universe" by Vahn Pascual, "Tanaw" by Kaila Ysavl Bergonio, "Ihi sa Bote" by Caitlin Macaraig, "Gayuma" by Trixie Vertera, "Modern Stray" by Rayshelle Lozada, "CITSALP" by Jean Evangelista, and "Signal Notice" by Aki Red, will kick off the special screenings at one in the afternoon. Films from WVSU will immediately be shown right after them.
In Pascual's film, two characters, who annually decorate their room and secretly pretend to be one of the contestants in the Miss Universe pageant, have their lives shaken as something unexpected happens. It brought home Best Film, Best Editing, Best Production Design, and Best Actor at CineMapúa 2021; Best Film at the Manila Student Film Festival 2022; Best Film, Best Director, and Best Screenplay at CineMandirigma of the University of the East-Caloocan's Silangan Film Circle; and first runner-up and Best Sound Design at the Video Home Festival of Dr. Carl Balita Productions. It was also a finalist at the Metro Manila Film Festival 2020 Student Short Film Competition and official selection at the 15th Kansai Queer Film Festival in Japan, UP Pride Film Festival 2022, and Cinema Rehiyon 2022, just to name a few.
"Tanaw," which bagged second runner-up, Most Gender Responsive Film, Best Performance, and Best Screenplay for Bergonio at the Klima Film Festival 2021, is about a 17-year-old student raised by her mother, a retired barangay captain and environmental activist. Schoolwork leads her to research on climate change and onsite in a quarry. Standing up for a cause, she finds a new passion and education.
In "Ihi sa Bote," a woman recalls a childhood trauma one afternoon while she is with her family and boyfriend. Her father brings up her peculiar habit of peeing in bottles when she was younger, making her uncomfortable. Macaraig's film won Best Production Design, Best Supporting Actress, and Award of Virtue at the REALIFILM 2022 Film Festival by Adamson University's Silip@Lente student organization.
"Gayuma" focuses on a woman suffering from a midlife crisis who falls under the spell of television commercials claiming to be the solution to her problems. Vertera's film received the Best Film award at the FilAr Peace Film Festival 2022 in Iloilo, Audience Choice Award at the Manila Student Film Festival 2021, and official selection at the Sinedisipulo Film Exhibition 2021 in Cebu.
Like "Tanaw," Lozada's "Modern Stray" was also a finalist at the KFF 2021. In the film, a content creator has been called cheeky, rude, and materialistic. While working on new content for her YouTube channel, she sees a picture of her childhood home in Batangas and hatches a plan to feature her provincial roots.
Advocating for the environment is also at the center of Evangelista's prizewinning film "CITSALP." The short animated film about the adventures of a plastic cap that ended the life of the last whale on earth got the Porto Cesareo Marine Protected Area Award for Best Audiovisual Work Dedicated to the Sea in Italy; the Gold Fish Award or grand prize at SEAning Kabataan of the Bureau of Fisheries and Aquatic Resources; honorable mention at the 2022 Festival del Cinema de Cefalù, also in Italy; second place at the Rotary PSA Festival 2021; and official selection at the second MBC Short Film Festival, Cinema Rehiyon 2022, and Animahenasyon 15: The 2021 Philippine Animation Festival, among others.
The first set of screening wraps up with "Signal Notice" which gave Red the Best Sound Design award at the Nabunturan Independent Film Exhibition 2021 and official selection at the Festival de Cinema Escolar de Alvorada in Brazil. The film follows a lonely, elderly patriarch as he spends his final days struggling to reconnect with the modern world. He finds comfort among a growing number of strays.
After the AFS and SFAP launch, another group of Benilde films, such as Lorys Plaza's "As I Die Slowly," Mike Cabarles' "Naraniag A Bulan" (Until the Moon Turns Blue), Giulia Saavedra's "Awitin! A Short Musical," Diana Galang's "Classroom 2022," Dan Verzosa's "Gapos sa Kadenang Walang Kandado," Xyron Miguel Parapara's "Taya," and CM Bautista's "Pig's Game," will be shown on March 18, 4:30 p.m.
"As I Die Slowly" is about a teenage girl who is diagnosed with a life-threatening illness amid the pandemic. Stuck at home with her family, she struggles to deal with the stigma that surrounds her condition. Plaza's film is one of the finalists at the 4th Quisumbing-Escandor Film Festival for Health.
In "Naraniag A Bulan," a woman yearns and struggles to let go after the disappearance of her husband prompting her to create the illusion of her spouse's death. The film, whose title is the same as that of a popular Ilocano folk song, took home Best Film, Best Director for Cabarles, Best Cinematography, Best Musical Scoring, and People's Choice Award at REALIFILM 2021; Best Director, Best Actress, Best Overall Director, Best Film, and Festival Jury Award at the second Sundayag Film Festival; first runner-up and Best Director at CineMandirigma; and official selection at Cinema Rehiyon 2022.
Meanwhile, in "Awitin," a teenage girl braves her inhibitions to finally sing her song at a time of uncertainty and seclusion. Saavedra's musical film also won at REALIFILM 2021, bringing home the Award of Excellence, Best Sound, Best Original Song, and Best Supporting Actor for Alleison Dimatulac.
"Classroom 2022," which depicts the Philippine political environment and reflects the significant role of citizens during one of the most crucial events in the country, gave Galang the Best Picture and Fan Favorite awards at the inaugural IKLI: Super Short Film Festival.
Politics is also the focus of the Martial Law-themed "Gapos sa Kadenang Walang Kandado," which got Verzosa the Misha Boris Anissimov Award at SineDisipulo and Best Screenplay at the SinePiyu XIV: Ibayo Film Festival. In the film, on an ordinary morning, months before the country's presidential election, a mother listens to her child's cassette tapes, audio recordings from years before. She recounts and reimagines the events that happened during her daughter's thesis defense while waiting for her return.
"Taya" follows a teenage boy who has been used to his father's absence, getting by each day through his mother's care and playing with their neighbors. His life changes when his father comes home drunk and harms his mother. Parapara's film won the Viewers' Choice Award at Piling Obrang Vidyo in UP Diliman.
"Pig's Game," POV Best Screenplay, Best Performance, and Jury Prize awardee, tells of a run-of-the-mill theater actor who gets involved in a thought-out audition for government propaganda. Bautista's film also bagged second runner-up, Best Actor for James Ram, and Best Cinematography for Tristan Aguilar at CineMandirigma; finalist at the 33rd Gawad Alternatibo; and official selection at CineMapúa 2022.