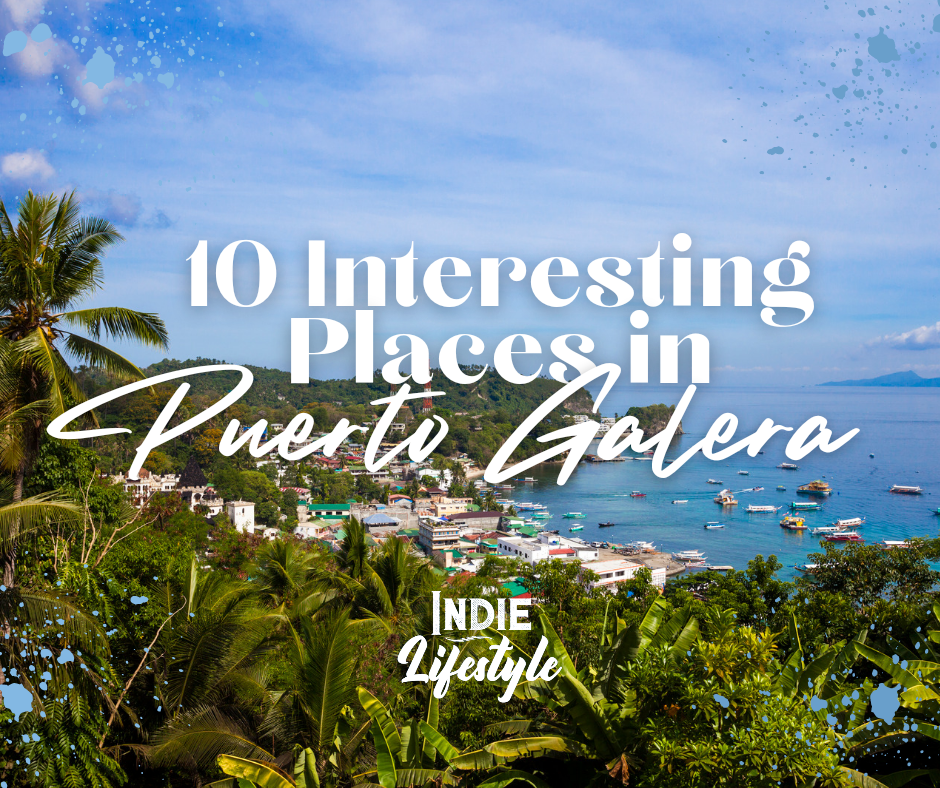 by Indie Lifestyle
Many of us are keen on exploring what kind of world there is outside Manila. We love travel, adventures and new experiences. We seek time to finally do it one day. But what if we tell you that going to Puerto Galera feels just like going to another country?
The Indie Lifestyle team, partners as well, we, Marco Julio and Rishen Ashikaga (and Mr. Chow) ventured into an unknown island, a magical town in Mindoro called Puerto Galera. We are about to tell you about the adventures we had during our one-week of stay.
Let's begin with some basic info.
So we rode the Roro in Batangas Port. We brought Maria Suzuki Swift, our fave car and our baby dog. We left home from Rizal at 4:30am and arrived before 8am. There was no traffic, the road was smooth.
When we arrived, we were asked about the dog, if we brought papers and certification, and duh, never knew that was needed, so I was so stressed and even cried because I thought I wouldn't be able to escape this city for once. But then, I had my way but we missed the ship going straight to Puerto G so we rode to Calapan instead. Geez, for those who are traveling with pets, please keep in mind about travel requirements (Anti-Rabies Vaccine record and Veterinary Certification).
Moving on, we paid 3,700+ for the car and my fare going to Calapan. After the sleepy-hicky 3 hour ride, we finally got off board and drove an hour going to Puerto Galera. The road was magnificent! No traffic 100%!
Here are 10 Interesting Spots we went to: 
Answer Hotel
 Answer Hotel is located in Small Tabinay. It was our first stop coming in Puerto G, coming from Calapan Port.
The Answer Hotel has 24 beautifully furnished rooms that adhere to the highest standards of convenience. The hotel's room types vary from Standard, Deluxe, Twin, Family, and Quad. The prices of these rooms range from PHP 1,000 to PHP 3,000. It takes only two minutes to walk to the local beach. The hotel is delighted to provide individual guests with transportation between Answer Hotel and other nearby locations.
We really recommend Answer Hotel for its cleanliness and simple hotel vibe.
Location: Western Nautical Road, Small Tabinay Puerto Galera, Oriental Mindoro, Philippines
E-mail: answer.hotel@gmail.com
Contact No.: +63 956 790 0623
Website: www.answerhotel.com
The Italian Pizza Stop
The Italian Pizza Stop is an Italian restaurant located below and beside Answer Hotel in Small Tabinay. It is one of the best Italian restaurants in town. Be assured that their pizza is authentic and affordable with many available flavors. I especially enjoyed Penne 4 Formaggi because I have never tasted any pizza as good as that. Other dishes such as their pasta are also commendable. To add to that, their place has a good place to chill, there is live music to enjoy every Friday or Saturday nights. They are also very welcoming and allowed me to play at the restaurant. Both the manager and the owner are very kind.
Opening hours:
Monday to Friday – 11:00am to 9:00pm
Saturday and Sunday – 9:00am to 9:00pm
Contact No.: 09553917463
Squares Beachfront Apartments
When we first entered Squares, it was wow!
If you prefer a place to relax in that's literally next to the beaches, Squares Beachfront Apartments, located in Small Tabinay, might be the one for you and the one for us! It feels very peaceful around this place and the structure of the place itself is lovely. There's a big pool, a dining hall, I think they have complete amenities. Its spacious Standard Room has a living area and can accommodate four guests. It is air-conditioned, offers free Wi-Fi, and has a TV as well as a shower heater. For ₱2200 per night, it's good for two people. But what Mr. Chow and I really appreciated was the well-maintained mowered grass, that you would want to take of your shoes and run around definitely!
This place special is also suitable for those who are in for a party and are looking for more than just a room to reside in Puerto Galera, since there is a nearby "unique and casual" bistro lounge that offers affordable quality event venues and catering services. So if you're thinking of coming to the town to spend your birthday, or basically some fun gathering, or even a wedding, Squares should definitely be on your list.
Visit their Facebook page at https://www.facebook.com/squarescafeandapartments.
Squares Beachfront Apartments Contact No.: 0906 108 6003
Square's Beachfront Bistro Lounge Contact No.: 0945 440 2657
Rexy's Place
After two days of staying at Small Tabinay, we are yet to explore more exciting features of Puerto Galera, and that is the White Beach! There are a lot of resorts and inns, but Rexy's Place is definitely for the budgetarians!
Just 2-3 minutes of walking from the beach itself, Rexy's Place welcomes guests with not just all the affordability for they're also well-rated in terms of accommodation. This is a great place of choice if you're going with a barkada or family, and even along with your dear dogs and pets, because for only ₱399 per head out of four at minimum, you get to relax in an air-conditioned room with its own comfort room. There's also a kitchen and a dining area, and worry not about the essential Wi-Fi as it has that provided just fine. And what's more is that they proudly offer free breakfast and videoke. Who wouldn't have a good time with these inclusions?
I especially like the people here. The owner and Ms. Bailey Sue is very very accommodating, friendly, and generous. I think that's one of the major plus points for Rexy's Place!
You can check out photos and reviews, or inquire on their Facebook page at https://www.facebook.com/rexysplacewhitebeach.
Rexy's Place Contact No.: (0917) 839 1161
So on our third day we were actually casted as extras for a Dutch film that was shot in White Beach. We got to experience getting to know a lot of foreigners, who are actually residents of Puerto Galera, not just visitors.
One thing we noticed, there were a lot of Filipinos and Filipinas who married foreigners. That's why Puerto Galera became a haven of mixed international personas! There were a lot of Germans, Americans, Swiss, and especially Koreans, also a lot of many more nationalities. I have no complains about it but the History of this place is quite something. Interesting. That's why we feel like we are in another country because we were surrounded by foreigners.
Anyway, here's the next one. 
Seaside Grill & Resto Bar
When we passed by Seaside grill along the White Beach well-cemented street beside the shore, the ambiance and the look of the place is quite charming. The design is very refreshing and homey. Honestly, this spot is the most beautiful restaurant in White Beach. It embraces nature and souls. We actually went by here a lot of times.
The restaurant provides the typical seafood that you'd see in seaside restaurants. Mouth-watering crabs, mussels, calamari, and more are sure to satisfy your taste buds and appetite. Of course, if you're not too fond of seafood, the place also serves steaks, chicken, and even pasta! The resto bar of course, also serves liquor for the adults to enjoy. The wide variety is sure to satisfy your cravings.
But this spot is quite underrated if we compare it to Delgado's Jamhouse which was the center of White Beach because of the reggae scene there. Maybe what's missing is just good performers to brighten up the place. And so I graced it with my acoustic performance. I look forward to performing there again.
Ms. Gie, the owner is also very kind, nice, and generous to us. It feels good that we were welcomed without prejudice of who we are.
Be sure to contact them here:
Facebook: https://www.facebook.com/SeasideGrillAndRestoBar/
Il Capo Smoke House
The Il Capo Smoke House is an Italian restaurant and also one of the best burger spots in Puerto Galera. They are known for their steaks and burgers. They serve many delicious crave-worthy food and also wine. This is also a nice spot to dine in if you're just around White Beach. We particularly love the plating of the dish, the instagrammable yummylicious everything on the table. Il Capo is definitely one of the restaurants we would love to dine in again. The place has a great atmosphere and is good for family gatherings, parties and meetups. The staff is also very nice and welcomed us warmly.
Contact for Delivery:
09690612347
09690612345
09055139350
Email: keithlimuelabante@gmail.com
Katha Arts Cafe
When in Puerto Galera, you should definitely stop by the Katha Art Cafe. If you're into Filipino vibes, Katha offers various goods, like items from different crafters. Katha Art Cafe does not only offer good drinks and good snacks, the nipa hut is also a hangout spot of interesting people. Hazzel Andersen, the owner was very nice as well. She helped us a lot durong our stay in Puerto Galera. They are conducting workshops like Ukelele workshops and have some events from time to time. Katha Arts Cafe maybe small for now but it is promising, from sweets like cookies, to drinks like frappes, and goods like handcrafted jewelry and native bags! The walls of their well-lit cafe are covered in dried Philippine-native plants and leaves, and the furniture in the café also features similar design, giving the entire place an ethnic feel.
Location: Aninuan, Puerto Galera, Philippines, 5203
Contact No.: +63 969 499 9234
Facebook Page: https://www.facebook.com/kathaartcafe
Arkipelago Divers & Beach Resort
So far, for our stay of one week in Puerto, we have met a lot of wonderful people. One of them were the owners of Arkipelago. We have stayed for how many days around White Beach and did not realize that there are still a lot of places to go, and that one of the wow place is in Sabang. Sabang is known for Koreans, and lots of foreigners around that you'll feel you're not in Philippines. It's also known as a scuba diving spot. And how wonderous that we've been accommodated very well in Arkipelago Divers & Beach Resort. There's so much to say about this place, it is very memorable to us. If you're looking for a place to relax and enjoy the full experience of Puerto Galera, and you have the money, Arkipelago Divers & Beach Resort is the place for you! Rooms are very nice and will greet you with sweet aroma. We commend this place for its cleanliness and luxurious vibes. As your home away from home, the resort offers quality service at mid to upper range prices but is very worth it. The place also offers a wide-range of facilities such as a bar/lounge, 24 hour front desk, an outdoor pool, an airport shuttle service, Wi-Fi access, and many more! The food is great especially their Bulalo, it reminded me of Tagaytay quality of cooking. But most of all, this diving center is most promising because of Pedro Magsino as the main trainor. The resort is proudly located on the Verde Island Passage —a strait internationally regarded as 'The Center of Global Shore-fish Biodiversity' for its abundance of aquatic life. The resort also organizes trips to Isla Verde which is just a short boat ride away. We are priviledged to have this awesome experience.
One thing we also liked, pets are also allowed in the resort!
The resort offers a team of highly dedicated PADI (Professional Association of Diving Instructors) professionals. All members of the dive team were mentored by Pedro Magsino, a highly-respected PADI Course Director who is regarded as the best of the best among diving instructors. He is also the President of Puerto Galera Diveshops & Dive Resort Association with 25+ years of experience in the dive industry.
Add to that, the team is made up of people who have grown up in Puerto Galera themselves, so you can experience being led by a local. The Dive Masters all prioritize your safety while still remaining friendly and cheerful to safely lead you on a fun diving experience.
Check them out here:
Website – https://www.arkipelagodivers.com/
Facebook – https://www.facebook.com/ArkipelagoDiversBeachResort/
Kusirena Cafe
Craving for Thai Cuisine? This is the way to go! Located near the Balatero port, this beachfront cafe is intimidating because it only accepts guests via reservation. That's right! Tezz Calvo, the owner, is also the head chef herself. And we are honored to watch her work in the kitchen. Goodness, the kitchen is so good and big that made me think maybe she has all the ingredients a woman can ever collect! The cooking is very precise, the dishes meticulously made. As a chef as well, hands down to this work of art… this is culinary arts! From the preparation, plating, and taste, score is 100!
Aside from the wide selection of food on the menu, the woody bamboo restaurant strikes the perfect atmosphere for an island restaurant, where you can dine in and have a view of the beach. Kusirena is inspired by Kusina and Sirena that's why Kusirena.
Plus, they also have an exclusive room for guests who want to stay over. You can check out their page for more jnfo.
Location:
Sitio Silangan, Balatero, Puerto Galera, Oriental Mindoro
Contact: +639166475490
Email: kusirena.ph@gmail.com
Facebook Page: https://www.facebook.com/kusirenacafe.pg?mibextid=ZbWKwL
Oriental Sabang Hill Resort
When in Puerto Galera, you better not miss going to Oriental Sabang Hill Resort. Oriental Sabang Hill Resort has a restaurant where you can enjoy a wide selection of dishes prepared by trained chefs. Amenities provided included car rentals, private boats, massage and spa treatments, dry washing, an outdoor pool, and a wake-up service. The resort's features and offerings are noteworthy. Especially the food, their seafood dishes and especially the pasta.  The calming atmosphere of rooms are intended for the most discerning travelers! The rooms are good for groups and families. They also have a patio placed right where you can view the ocean. And since it's a hillside, expect a better view of it!
You won't be bored staying at this place because they have a library where you can borrow books to read! Just promise to return, okay? And then there's also another pool but for billiards! Then you can still go out and explore the red district of Sabang at night. Totally interesting because the narrow streets are filled with neon signages.   You'll feel like in a movie!
Lastly, the manager and the owner are very kind and accommodated us without judgement. Oriental Sabang Hill Resort is still underrated because of a lot of competitors around but there's none like this one! We hope more people can discover this precious place.
Location: Brgy. Sabang Puerto Galera, Oriental Mindoro 5203 Puerto Galera, Philippines
Contact No.: +63 915 318 0978
Facebook Page: https://www.facebook.com/profile.php?id=100087567950020
Email: info@sabanghill.com
Website: www.sabanghill.com
Indie Lifestyle Researchers: Nolsen Villanueva, Jazee Miles Grace Enbonas, Mark Aspiras
Rainer Casimsiman, Carmela Fabella and Nicolai Guevarra
Travelers: Rishen Ashikaga, Marco Julio Magpantay and Mr. Chow
Wanna be featured? Contact us at indieqctv@gmail.com or text 09564604131 or message our page, Indie Lifestyle.